Case Study Background
STRESS Engineering Services was contracted by Blaenau Gwent Council and the Welsh Government's historic environment service, CADW, to undertake restoration work on the 200-year-old Big Arch in Ebbw Vale. 
Constructed in 1813, the Big Arch is one of the largest early horse-drawn railway bridges in Britain and symbolises the town's place in the history of iron and steel making in Wales.
The bridge had become unsafe for road users, with deportation caused by weather causing small rocks to fall onto vehicles passing beneath.
The restoration work took almost 12 months, with the official reopening taking place on 7th September 2022
The Challenge – Site Security Requirements
Due to the nature of the site's location, being located in a busy mixed-used commercial and residential area, STRESS required a proactive security system to protect its worksite from intruders and eliminate the risk of plant theft that would cause significant delays to the project.
With the site being long and narrow with tall embankments, the system needed to pick up activity within a 360° area with no disruption from false alarms and alerts.
The Solution – WCCTV Construction Site Security Services
WCCTV supplied STRESS with two WCCTV HD Site Towers; a self-powered CCTV tower system backed with a service that included installation, alarm monitoring, ongoing maintenance, support, and performance reporting.
The site was protected from the front and rear with 7m tall proactive systems that are bright yellow, making them an obvious deterrent to any unauthorised visitors to the site.
They contain in-built 4G transmission of video and alarms, an HD infrared, 360° PTZ camera, audio speakers to enable remote challenges, and local recording capability to store evidential footage.
The benefits of a live audio warning system allowed for the peace of mind that any would-be criminals would not hang around due to live monitoring which is a part of WCCTV's Managed Service package.
Additionally, WCCTV deployed a static camera and multiple wireless detectors throughout the site to ensure full coverage of any unwanted trespassers that may seek cover behind the cabins – removing the need for moving the cameras to view and cover these areas.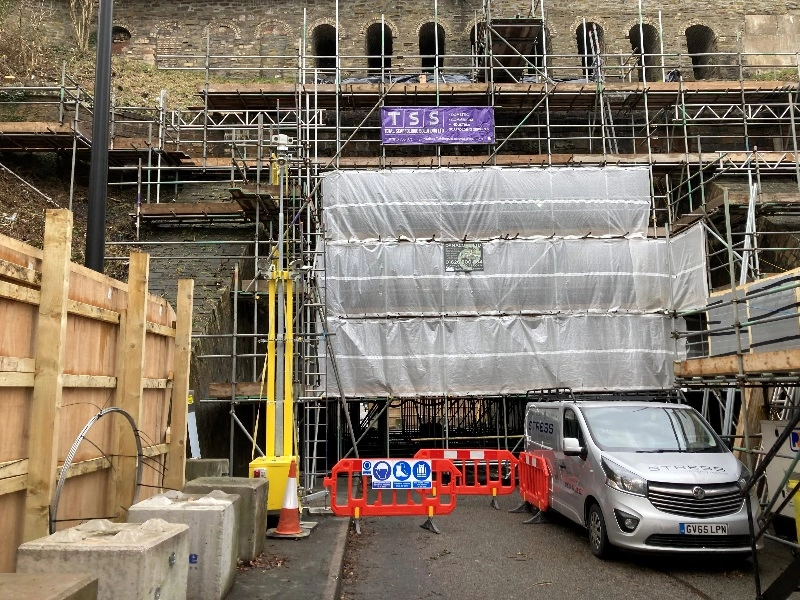 The Result
WCCTV's managed CCTV services ensured that STRESS's worksite always remained protected throughout the construction. This prevented potential losses or delays, meaning they completed the project on time.
Furthermore, the site manager has been able to dial into the cameras remotely to check on the project's progression and to ensure there are no emergencies that may have occurred due to the uncertainty of the weather.
A statement from Richard Carter, Site Manager for STRESS UK at Big Arch Ebbw Vale:
"The peace of mind that comes with having a good camera system in place as a preventative measure really helps you sleep at night.
An all-around good service from the teams at WCCTV."
Learn More
WCCTV Construction Site Security 
Ready to find out how WCCTV's managed CCTV services can assist with site security? Get in touch today on 0800 470 4630 or email sales@wcctv.com.