WCCTV has been named in the Northern Tech Awards Top 100 Fastest-Growing Companies by GP Bullhound. The finals ceremony takes place on June 16th at Manchester Albert Hall.
Since 2014, the annual Northern Tech Awards highlight the leading technology businesses headquartered in the North of England, Scotland and Ireland.
Organised by GP Bullhound, the Awards provide a unique way of celebrating the innovative technologies and businesses developed in the region and recognise those who have contributed to their success.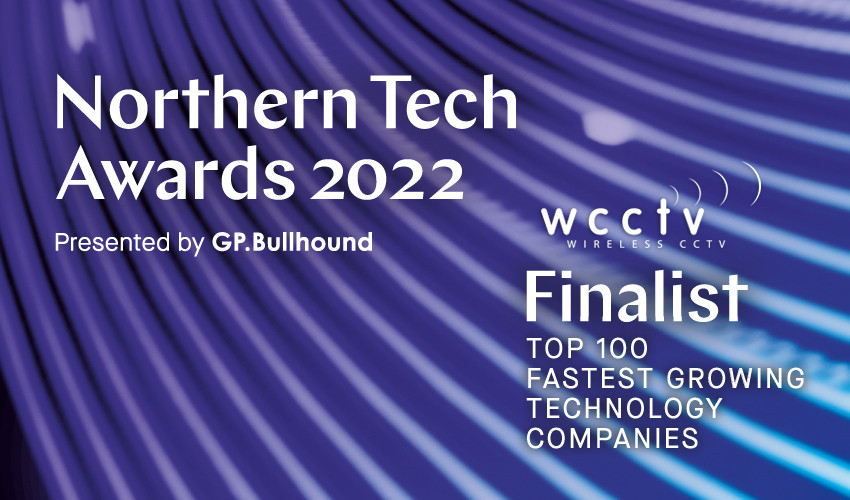 WCCTV's inclusion in the top 100 follows several years of record growth domestically and internationally, with the Company establishing a strong presence in the United States and Europe.
With demand for technology-based security services continuing to grow year or year, the Company recently received investment backing from LDC of £30m for a minority stake in the business. This has allowed for the opening of additional offices, recruitment, and product development to accelerate at pace. 
Day-to-day, WCCTV focuses on production and service innovations and places its customers at the heart of every business decision. This focus has seen the Company grow to become the UK's leading provider of redeployable CCTV, site security solutions, and body worn cameras.
Speaking on being named amongst the top tech companies in the North West, WCCTV's CEO David Gilbertson said:
"We are incredibly proud of the bespoke leading-edge technology platforms that underpin our security offerings, but this latest recognition is equally attributable to the incredible work of our people."
"We have experienced incredible growth over the last five years, and the commitment, passion, and good humour of our incredible team are at the heart of this success." 
To find out more or view the league table, visit the GP Bullhound site.