Case Study Background
The town of Newton Aycliffe was highlighted in early 2022 as having serious challenges around anti-social behaviour.
The problems had become so extensive that parts of the town had been branded as 'no-go' areas, and residents were left fearing for their safety. 
Despite regular patrols by police, matters had not particularly improved in the area, so a new approach to crime reduction and community safety was required. 
The Solution - Redeployable CCTV Cameras
To tackle the ASB challenges head-on, Durham Constabulary's Neighbourhood Policing Team sourced five of WCCTV's Redeployable CCTV cameras to be installed in areas of particular concern. 
The WCCTV 4G IR Mini Dome systems deployed by the team are all-in-one surveillance systems, combining an infrared PTZ camera, local recording capacity (up to 4TB) and wireless 4G transmission technology into a single, lightweight unit.
They are easy to install, maintain, and move to new locations to tackle crime, anti-social behaviour, and other surveillance requirements. 
As highly visible, overt CCTV systems, their visual presence sends a warning to offenders that they are being monitored, and provides reassurance within the community that their safety is of concern to the police and local authorities.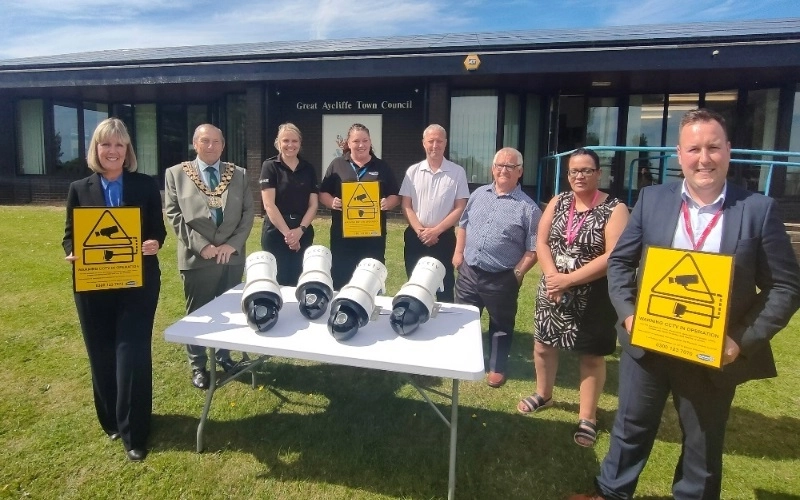 The Result - Significant Crime Rate Reductions
WCCTV initially provided cameras to the Neighbourhood Policing Team on a short-term proof of concept trial. This free equipment loan was designed to show the effectiveness of the cameras in delivering results.
At the conclusion of the trial period, the cameras were shown to have contributed to a 50% reduction in reported crime rates across the town. 
The success prompted the purchase of additional cameras to drive further results, with all funding for the equipment being supported by the Great Aycliffe and Middridge Partnership.
The Quote
"I am delighted to see excellent partnership working and cooperation delivering such positive results.
"These new cameras will undoubtedly make the communities of Newton Aycliffe safer and more secure and I hope other towns and partnerships will follow Newton Aycliffe's lead."
Durham Police and Crime Commissioner, Joy Allen
Related Links
Redeployable CCTV for Police Forces
Ready to see if WCCTV's Redeployable CCTV can help reduce ASB in your area? Contact us today on 0800 470 4630 or email sales@wcctv.com.
Related content