Implementing a Redeployable CCTV programme as either an alternative to or compliment for a fixed fibre-based CCTV system offers a multitude of benefits.
From reduced set-up costs and ease of installation through to scalability and future-proofing, WCCTV's clients across both the public and private sectors have benefitted from integrating Redeployable CCTV into their monitoring strategy.
WCCTV outlines some of the headline benefits associated with Redeployable CCTV below:
Rapid Deployment and Ease of Installation:
Installing a fibre-based CCTV system can be time-consuming and expensive. The civils work required to run extensive cabling underground is a potentially disruptive process that prevents an organisation from being agile in response to CCTV monitoring requirements.
WCCTV's Redeployable CCTV cameras remove the requirement for such infrastructure, meaning they can be installed quickly and at a significantly reduced cost.
Flexibility and Redeployments:
One of the key benefits of Redeployable CCTV is the ability to easily move the cameras to a new location should the monitoring requirements change.
This is particularly beneficial should the camera's original purpose become obsolete either due to criminal activity in the area being displaced or the camera becoming obscured (by a new build, foliage, road layout change etc).
It is also ideal for tackling criminal activities such as fly-tipping where a reactive approach is required. An example of an organisation successfully tackling fly-tipping hot-spots with Redeployable CCTV is Birmingham City Council, who secured the arrest of 3 prolific fly-tippers in the first week of deployment.
Temporary Applications:
Redeployable CCTV is ideal for providing temporary monitoring and security for short-term applications such as festivals, road works, political demonstrations and major sporting events.
Cameras can be transferred from their standard locations to provide extra monitoring for the duration of any temporary event without an organisation having to invest in additional CCTV.
One example of this is Dudley Council who, in conjunction with West Midlands Police, temporarily moved their fleet of Redeployable Cameras to cover the route of a planned EDL march through the town to provide additional monitoring of the event.
Quality:
WCCTV's continuous product development and customer focused approach has lead to ongoing improvements in its Redeployable CCTV systems. 
The WCCTV 4G HD Speed Dome is the most advanced Redeployable Camera available, delivering high definition video (up to 1080p) at speeds of up to 25 frames per second on a live 4G connection.
Its low bandwidth streaming allows users to benefit from high-quality live video over wireless networks with zero latency and full PTZ responsiveness.
Find out more about the next generation of Redeployable CCTV: WCCTV 4G HD Speed Dome.
Future Proofed Products:
WCCTV's products are future-proofed to work on next-generation networks, allowing customers to benefit from faster connection speeds without replacing equipment. Likewise, it is possible to upgrade the integral storage capacity of the Redeployable Camera, and WCCTV is continually upgrading its supporting software which it rolls out free of charge.
Revenue Generation
A number of WCCTV clients have secured an additional revenue stream by loaning their Redeployable Cameras to other organisations for the duration of major public events or activities. One such example is Reading Borough Council who have loaned their cameras to the Reading Festival for public safety and traffic management during the popular event.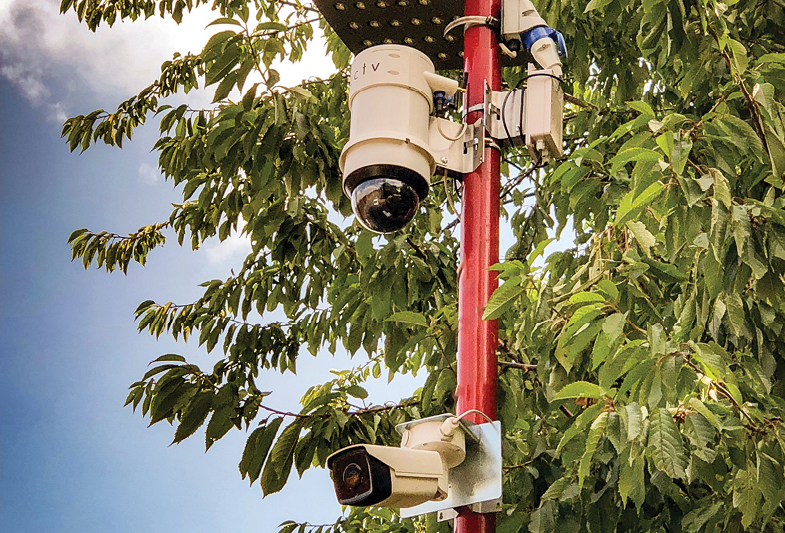 Control Room Integration
WCCTV Redeployable CCTV video feeds can be streamed directly into your existing control room. The organisation has worked with the likes of Meyertech, Synectics, iComply, Tyco and 360 Vision Technology to ensure deployments of WCCTV cameras is seamless and intuitive for your CCTV operators.
An example of WCCTV integration is Bournemouth Borough Council who integrated a number of WCCTV's cameras into their Synectics front-end video management software.
Summary
The benefits outlined above are just a selection of what can be achieved with an effective Redeployable CCTV strategy. Key to all of the above is the understanding of objectives, capabilities and limitations of systems, appropriate equipment selection and training and support.
WCCTV has been providing Redeployable CCTV since 2001 and has worked with the vast majority of Local Authorities and Police Forces.
To find out if WCCTV can assist with your monitoring requirements, contact sales@wcctv.com or call 0800 470 4630.