Case Study Background
Essex Highways are responsible for the management, maintenance and upkeep of roads and pavements throughout the county.
Essex Highways' total infrastructure is valued at more than £10 billion (excluding land) and includes:
More than 5,000 miles of roads

4,000 miles of footways and cycleways

4,000 miles of public rights of way

125,000 streetlights

 More than 1,500 bridges, culverts, subways and tunnels
The Challenge - Temporary Highways Construction
Essex Highways were undertaking road improvements within the County, which required traffic to be diverted through a small village to bypass the roadworks.
During peak times, traffic flow became an issue and caused major congestion through the village and the surrounding road networks.
Essex Highways needed a redeployable system to monitor traffic flow, enabling traffic light signals to be controlled manually to ease congestion without deploying workers on site.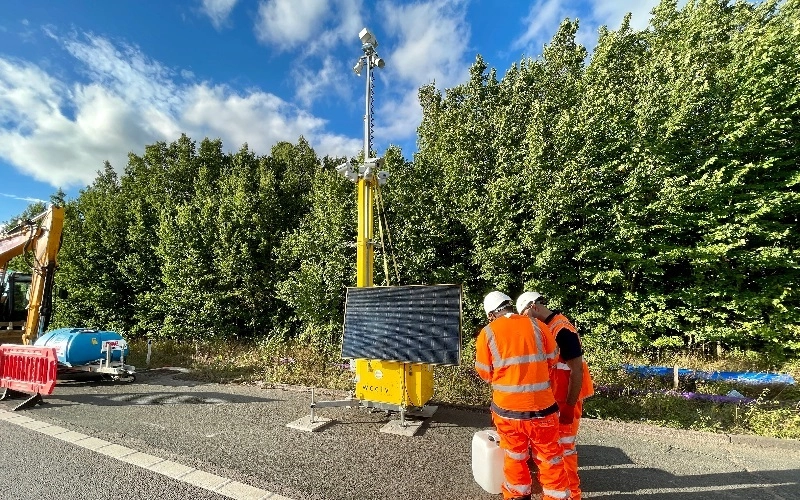 The Solution - Autonomous CCTV Towers
Essex Highways contacted WCCTV regarding its WCCTV Fuel Cell Tower to remotely monitor traffic flow and control the traffic lights accordingly.
The Fuel Cell Site Tower is an all-in-one site security solution that features the same specifications as the WCCTV Site Tower, but uniquely features a methanol fuel cell cartridge to provide uninterrupted autonomous power for up to 10 weeks before refuel.
Due to the WCCTV Fuel Cell Site Tower's market-leading design, no external tanks or cages are required to house the fuel.
The WCCTV Fuel Cell Site Tower is a truly rapid-deployment CCTV system, meaning it can be installed and fully-operational in just a matter of minutes, ensuring your sites are protected. 
As the WCCTV Fuel Cell Site Tower is completely autonomous in terms of both powering and video transmission, it can be installed at practically any location - making it an ideal solution for securing remote or off-grid sites.
The Result
Essex highways successfully monitored and managed the traffic from a remote location using a WCCTV Fuel Cell Tower.
Being able to view live footage from congested areas, the Essex Highways team could diffuse traffic through the village, which also had a greater impact within the surrounding areas.
The Quote
"We looked at several solutions to temporarily monitor the operation of a signalised junction in a relatively remote location. The Fuel Cell Tower offered by WCCTV was the ideal solution as the unit was completely self-contained, simple to install and provided Essex Highways with a cost-effective solution.
We were very pleased with the solution and customer service provided by WCCTV, and we are planning the further deployment of WCCTV temporary monitoring facilities at many locations to assist us in managing the highway network more efficiently, improve road safety and reduce journey times for the public."
- ITS Manager, Essex Highways
Related Links
Traffic and Transport Solutions
Related content