Installing rapid deployment CCTV cameras for construction site security, either as an alternative or complement to manned guards, offers many benefits.
Deploying rapid deployment CCTV for construction site security and asset protection, as either an alternative or complement for man guarding, offers many benefits.
From significant cost-savings and installation speed to reliability and convenience, WCCTV's clients across the construction, utility and highways sectors are already benefiting from implementing CCTV systems on-site.
WCCTV outlines some of the key benefits of deploying Rapid Deployment CCTV Towers below. WCCTV's experience comes from over 20 years of providing security to blue-chip construction companies throughout the UK. 
Cost-Effectiveness Without Quality Compromise 
The cost of employing man guards is often prohibitive for many when seeking a construction site security solution.
Guarding services generally come at a premium price, with external factors such as the requirement for multiple guards to cover larger sites, ongoing increases in the National Living Wage, the need for training, vetting, rest facilities and vehicles all pushing hourly rates ever upwards - even before bank holiday premium rates are taken into consideration.
Security industry and UK economy experts predict that Brexit, too, may impact both the cost and quality of manned guarding. With the SIA issuing over 15,000 licences to EU passport holders, a potential reduction of the UK's migrant workforce following Brexit could lead to a shortage of licenced and experienced guards.
With demand for security increasing, the demand for guards is likely to increase, pushing wage demands and costs upwards.
CCTV systems for site security, such as WCCTV's Rapid Deployment CCTV Towers, are often anywhere up to 86% cheaper than man guards' cost without compromising effectiveness or quality.
WCCTV provides its rapid deployment CCTV Towers on a sale or rental basis, meaning clients can choose the most financially beneficial package for their projects, regardless of its length.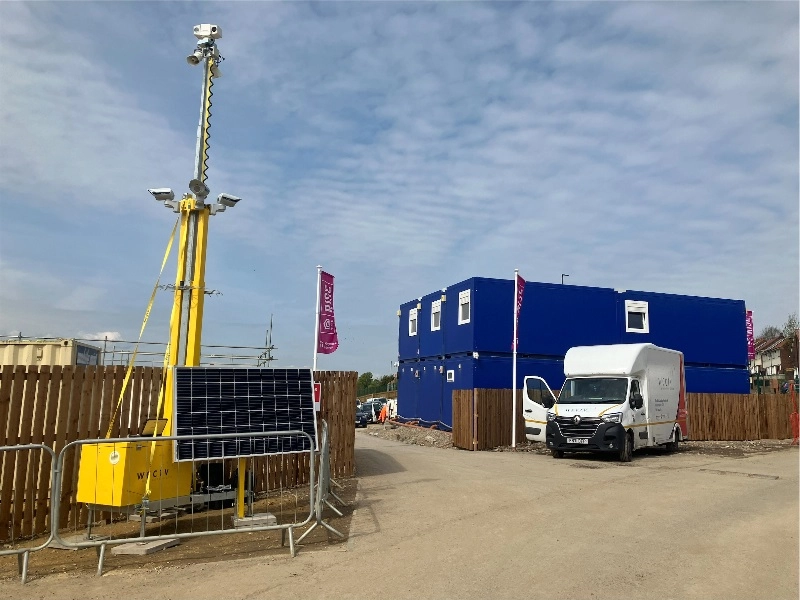 Quality and Reliability
Rapid Deployment CCTV provides a more accurate and thorough overview of incidents on-site than a physical man guard presence could.
This includes being able to identify intrusions in the lowest lighting conditions. Technology advancements such as infrared and thermal imaging allow cameras to see things a human eye would find impossible to detect.
A CCTV system can also view a much wider area than a man guard, and with the use of multiple infrared detectors, they can proactively identify any intrusion across a whole site and all points of ingress.
CCTV systems are also, by their nature, always attentive. The human element of man guarding introduces the risk of lapses in concentration and attention fatigue. CCTV removes the element of placing trust in the alertness, motivation and ability of security personnel.   
From a technology perspective, WCCTV's HD Site Towers represent the next generation of electronic site security.
WCCTV Site Towers combine wireless transmission (4G/3G and Wi-Fi) of video and alarms, multiple fixed and wireless PIR detectors, a high definition infrared, 360° pan, tilt and 36x zoom camera to allow a remote operator to capture images of any potential intruders, audio speakers to enable a remote challenge to occur and local recording capability for the storage of evidential footage.
A Proactive and Visual Deterrent
The ideal result for anyone looking to secure a site and their valuable assets is to prevent intrusions or break-ins before they occur.
The bright yellow WCCTV HD Site Tower stands 7m high, providing an unmistakable visual deterrent for a would-be trespasser, and they are proven to prevent criminal activity.
Should a break-in still occur, WCCTV's Site Towers offer a fully proactive response. The PIR detectors will pick up activity on-site, send an alarm back to a monitoring station or site manager where the activity is verified and responded to.
WCCTV provides all of its rapid deployment site towers backed by BS5979 and BS8418 accredited Alarm Receiving Centres (ARCs) as standard. Upon receipt of an alarm on-site, the ARC will issue an audio challenge via the Site Towers speakers. In most cases, this will deter the intruders and result in them leaving the site, as demonstrated below. 
If the intruder remains on-site, then the ARC will escalate the incident to the police, key holder, or a mobile guard working in conjunction with the CCTV system.
The video below perfectly demonstrates how WCCTV's rapid deployment CCTV helps deter, catch or record criminal activity at construction sites.
Risk Mitigation: Protect What Matters Most, Without Harm 
It's often suggested that the benefit of using guards is they can intervene and prevent a robbery from occurring should they discover an intruder on-site.   
However, in most cases, security guards are trained not to approach a potential intruder for safety concerns. Options, therefore, become very limited. 
Usually, in such instances, security guards ensure their own safety before calling out the police, the same as any normal public member. Without a unique reference number (which can be provided by an accredited ARC), the police may not respond immediately.
Using a CCTV system such as the WCCTV HD Site Tower could ensure a quicker response as they are backed with monitoring from an accredited ARC. It also prevents putting a human into a risky situation where intruders could threaten their safety.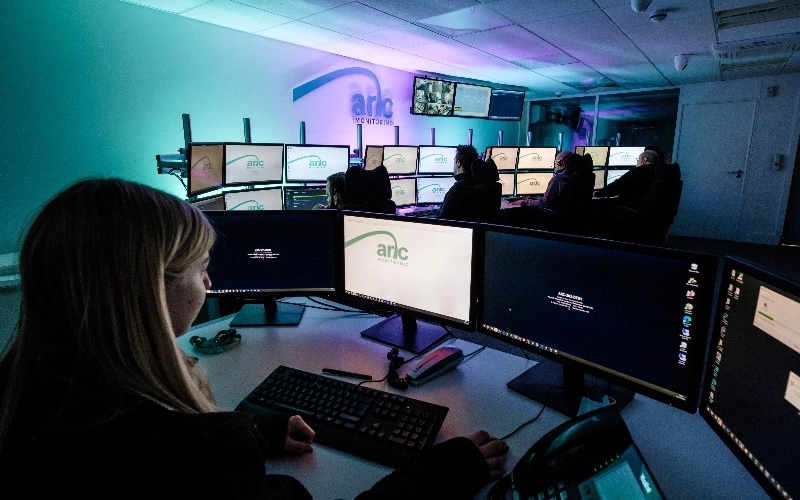 Rapid deployment and Flexibility
The WCCTV Site Tower is a truly rapid-deployment CCTV system, meaning it can be installed and fully-operational in just a matter of minutes, ensuring your sites are protected.
They can also be moved around the site as they develop, meaning blind spots can be mitigated and the most appropriate areas of risk remain protected at all times.
The wide range of powering options make them suitable for any sites; a WCCTV HD Fuel Cell Tower can be installed on a site with no power and no internet connection and still provided completely autonomous security.
The video below shows just how quick and easy it is to install a WCCTV Site Tower. ­
Additional Benefit: Health and Safety
Using WCCTV's Rapid Deployment CCTV provides many other benefits for construction companies.
One major benefit is that the cameras can provide project overview footage and assist with health and safety applications. As the cameras provide a 24/7/365 video feed, it allows clients to:
Conduct remote site audits

Review working procedures remotely and/or retrospectively

Manage site access (vehicles/pedestrians)

Manage access across site boundaries

Issue audio alerts
Finally, remotely monitoring a site gives senior management the ability to improve onsite health and safety by identifying risks and hazards without the need for site visits.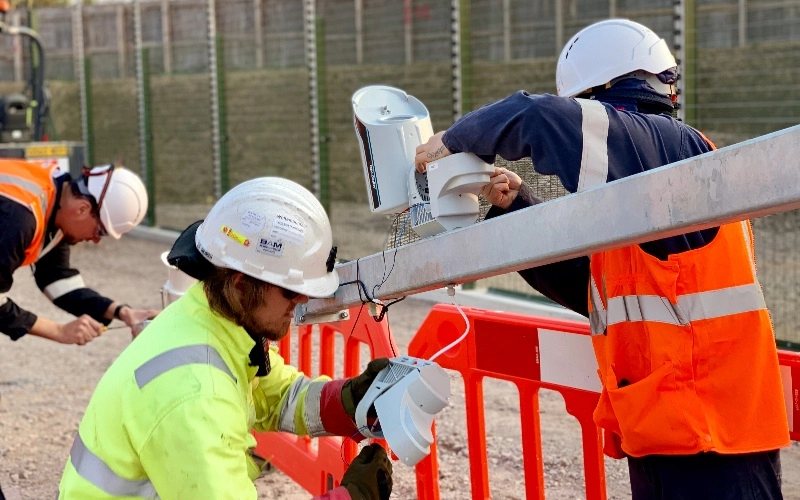 Additional Benefit: Time Lapse Video Recording
Another added benefit to using WCCTV's CCTV systems at your construction sites is that all of our systems are construction time lapse video ready.
Our cameras capture high definition images of your construction, demolition or refit projects at timed intervals, which our team of video editing professionals will use to produce a fully edited promotional video clip that can drive engagement for your construction company.
Time Lapse Videos help you win new business, celebrate your teams' successes, and get key stakeholder engagement for your projects.
Check out our Time Lapse Video Show Reel for 2020 below:
Summary
The points listed above are just a selection of the benefits provided by using rapid deployment CCTV.
Key to all of the above is understanding objectives, capabilities and limitations of systems, appropriate equipment selection, and using it as part of best practice for keeping your sites secure.
WCCTV would always recommend a blended approach to security while promoting the power of CCTV systems. 
WCCTV: Managed CCTV Cameras for Construction Site Security 
WCCTV is the UK's leading provider of fully managed construction site security solutions. 
We supply our own manufactured CCTV products backed by a comprehensive service covering site survey, installation, maintenance, alarm monitoring, response and monthly reporting.
Our rapid-deployment CCTV systems provide construction sites with multi-application benefits, including theft prevention, Time Lapse Video recording and remote project management.
Whether you have on-site power or not, we can provide our CCTV systems, and they all contain 4G transmission. So they are completely autonomous solutions.
Ready to find out how WCCTV's Rapid Deployment CCTV can assist with site security? Get in touch today on 0800 470 4630 or email sales@wcctv.com
Like this article? Please share it with your network.
Related content