Having a CCTV system that simply records criminal activity is no longer sufficient for securing sites and valuable assets. Learn how Remote CCTV Monitoring turns a CCTV camera into a proactive crime prevention tool.
Remote CCTV monitoring, for most businesses, has become vital in securing buildings, assets and people.
Below, we'll take a look at what remote CCTV monitoring is, who benefits, which industries are using it to enhance their security and why Remote CCTV Monitoring is increasing in popularity.


What is Remote CCTV Monitoring?
Essentially, Remote CCTV Monitoring is a cost-effective way of securing your commercial property and business assets from criminal damage and environmental loss. 
CCTV cameras deter criminals, and remote monitoring enhances this by sending camera images to a security centre that quickly responds to any suspicious activity, protecting your property.
Most CCTV security systems can be connected to a monitoring station via the Internet. Depending on the solution you require, this can be live 24 hours a day, 7 days a week, 365 days a year or at specific times whenever you need it.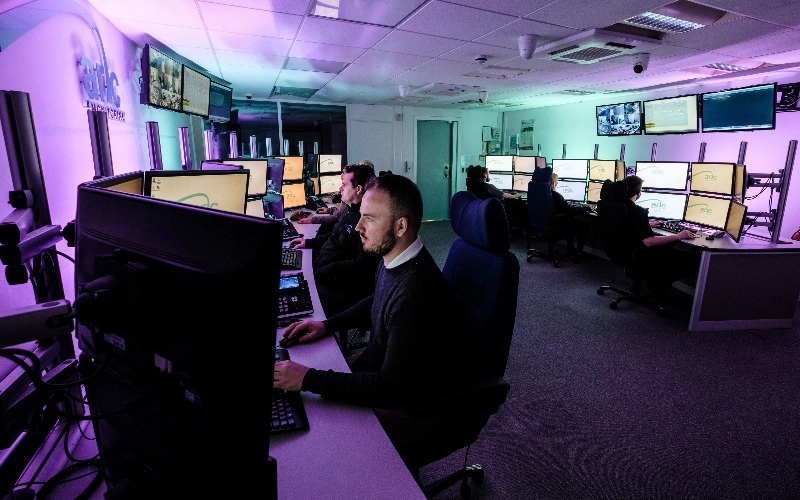 How does Remote Monitoring work with CCTV?
Most remote monitoring stations will tailor a package that suits you and your business needs, but the process of remote monitoring will generally remain the same. 
An internet connection is required, either LAN, WiFi or mobile connectivity like 4G/5G, so that the camera can send images to the monitoring station when unusual activity is detected. An expert can then manually log in to the cameras and identify if this is a threat or a false alarm like a dog or fox on site. 
If a threat is identified, then the monitoring station expert can sound an alarm with voice audio to let the intruder know they have been detected and security services, or police, have been notified and dispatched to the site. This usually gets rid of any intruders. 
Take a look at the video below on how remote CCTV monitoring with audio deters criminals.
What are the benefits of Remote CCTV Monitoring?
Remote monitoring has a huge advantage over standard CCTV units as they offer round-the-clock protection and reliability for your business or premises. The expert monitoring station will identify any unusual activity and implement its security plan.
It's cost-effective as it eliminates the need for a manned guard. In fact, CCTV units can reduce your security costs by up to 88% compared to security guards.
As well as being reassured that your assets are being monitored and criminals are being deterred, the response time from the monitoring station is fast and responsive, meaning they can alert the police within minutes.
How much is Remote CCTV Monitoring?
Regarding the cost of remote CCTV monitoring, there isn't a set price as each business premise or site will have individual and different requirements.
It's always best to speak with an expert who can advise you on the best equipment for your needs and which remote monitoring service would be best for you.


Who benefits from Remote CCTV Monitoring?
Many businesses use Remote CCTV Monitoring to reduce the impact of crime, save money and deter anyone thinking of trespassing on their site.
Monitored CCTV helps identify threats and lowers the cost of security. Sectors including: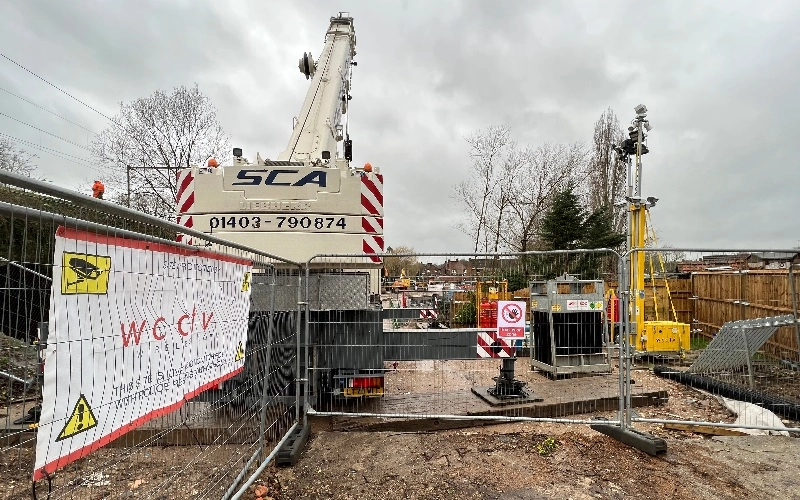 How Does a Wireless CCTV Camera Work?
Wireless CCTV cameras operate via either WiFi or a mobile connection such as 4G or 5G.
A wireless CCTV camera must always have a connection to view or record footage unless it has a built-in hard drive to store footage.
Our 4G Infrared Mini Dome is a redeployable CCTV camera designed to deliver live and recorded HD video using 4G mobile transmission. The Mini Dome surveillance system combines an infrared PTZ camera and local recording capacity (up to 4TB) into a single unit. It also has:
Infrared illumination up to 60m

Control AND configuration of PTZ functionality

An automatic pre-set home position to ensure optimal coverage

ONVIF compatibility

Three additional inputs for ANPR cameras and multiple accessories
This can be partnered with our Solar CCTV Tower for a fully autonomous solution when no mains or generator power is available or even if you want to turn generators off at night and over the weekends.
The Solar CCTV Tower can last up to 20 weeks, depending upon conditions, for peace of mind about security. 
What are the different types of Wireless CCTV Cameras?
The most popular cameras on the market, in no particular order, are:
PTZ

Infrared 

Dome 

Bullet 

C-Mount 

IP 

Wireless 

Day and night 

HD
You'll need one that's specific to your business or industry needs so we recommend you consider:
Where your access entry and exit points are

The layout and size of the site or premises

Biggest security threats

Time of day cameras will be recording, in most cases at night.
Are CCTV Cameras & Remote Monitoring the right solution for you?
If you are still wondering if CCTV Remote Monitoring is the right solution for you, remember that each solution is bespoke to the business or site so always speak with the experts about Cameras, CCTV Towers and Remote Monitoring for a complete, fully managed service.