Explore the workings of remote CCTV monitoring for construction sites. Enhance security & efficiency on your site with a professional remote monitoring service
The construction industry faces costs of up to £800m per year due to theft, vandalism and arson, with around 6000 break-ins per year, site crime remains a major challenge.
But with Remote CCTV Monitoring, you can give your security a helpful boost when it comes to deterring crime from your construction site.
What is Remote CCTV Monitoring for Construction Sites?
Essentially, remote monitoring for construction sites consists of one or more CCTV surveillance cameras that are actively monitored by a professional team in a centralised control center where they deter criminals through various methods including:
Sounding alarms

Voice-down audio, physically talking to the intruders

Contacting on site security guards or dispatching local police to site
Remote monitoring companies will usually have a set of instructions to follow which is agreed upon with the construction site manager or person in charge of security.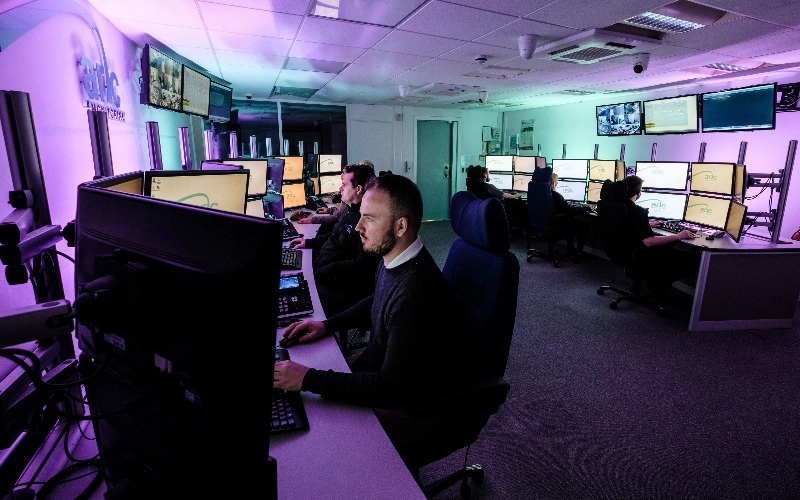 What are the Benefits of Remote CCTV Monitoring for Construction Sites?
Let's face it, no one wants to be robbed, especially when there are tens of thousands of pounds of equipment on a construction site, so it makes sense to have Remote CCTV Monitoring services in place to deter theft and criminals. But what are the main benefits of having remote monitoring technology on your construction site?

Theft deterrence and crime prevention
Alarm monitoring allows potential threats to your sites to be spotted in real-time and addressed. 

Secure arrests 
If a camera detects criminal activity, our monitoring partners will alert the police or a security patrol who can respond to the site and make an arrest. A police request from our monitoring partners will be prioritised as it is a verified, active threat.

Cost-effective
Rapid deployment CCTV cameras, even when backed by remote monitoring, are up to 88% cheaper than the cost of a man guard.
Evidence and Investigation
A professional CCTV operator can track every move a criminal makes, gathering critical evidence that will assist the police with criminal investigations.

Reporting and analysis
Our partner monitoring station will provide a detailed report of any incidents at your locations and give details on what action was taken - including speed of action.

Alarms, sirens and audio voice-down activation
If an intrusion is detected at your site, a remote CCTV operator can activate the built-in blue lights, siren and voice-down systems on one of our CCTV Towers. These are a proven deterrent to any potential criminal activity.

Fewer false alarms
Having your CCTV monitored by professionals means they can detect things on site that may trigger false alarms and filter these out completely for you.

Expertise
Our partner monitoring station is an NSI Gold Approved UK-based Alarm Receiving Centre (ARC). Their highly-trained SIA-licenced operators monitor sites 24 hours a day, 365 days a year.

Convenience
Rather than worry about late-night call-outs and reviewing your sites over the weekends and holidays - why not leave it to the experts and have complete peace of mind that your sites are in the best hands?

Reduce site visits
Remember that construction live monitoring also reduces the number of supervisor visits to your site. If your company has multiple construction projects in different areas, it's a waste of man-hours to send out supervisors to check on each site. Instead, they can log into the cloud-based remote monitoring app to get an immediate picture.

Reduces cost of insurance
Insurance providers are known to favour construction companies who are invested in security. When they have confidence that you're tracking equipment and raw materials while monitoring health and safety, they're more likely to approve your cover quickly and keep your premiums in an affordable range.

Eliminates manned security guards
If you have been using other forms of security up until now, then you'll find that remote surveillance offers a significant cost-saving. Instead of paying a security guard to be on-site 24/7, your remote security solution is vastly more affordable.

How does Remote Monitoring work for Construction Sites?
Remote monitoring is a combination of CCTV cameras and a control room where operators are constantly monitoring the construction site minimising the potential threat of theft, vandalism and arson. Potential security issues are addressed before they can escalate into significant issues.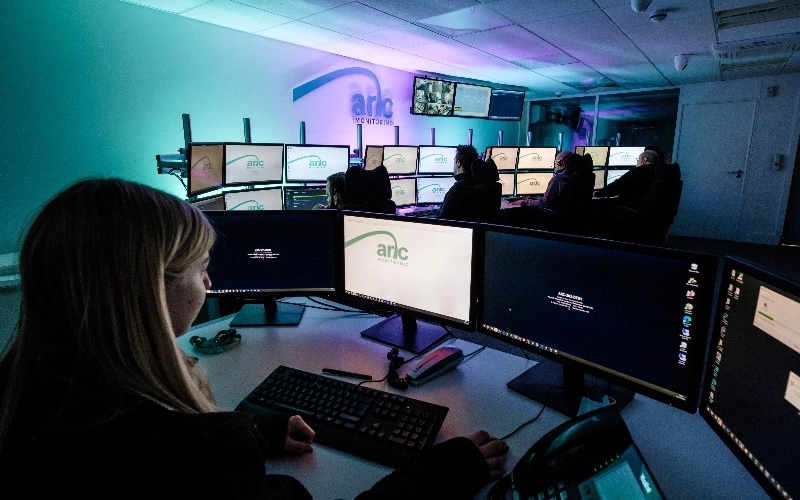 What is the process of Remote Monitoring to prevent theft from Construction Sites?
There are generally six main steps that companies will use when an intruder has been detected, although these can be expanded on depending on your security protocol.
Intruder Spotted


The first stage in the remote monitoring process begins when an intruder is detected entering or breaking the invisible perimeter. The camera, which is usually an Infrared PTZ camera, and the detectors work together to identify the perimeter has been breached and the system will immediately notify the monitoring station.




Monitoring Station Track and Verify


Once the monitoring station, also known as the Alarm Receiving Center (or ARC), has received the intruder notification, they log in to the specific camera and verify if this is an intruder or a false alarm. False alarms are classed as animals like cats or foxes that trigger a notification.



Once they detect the presence of an intruder they will very quickly track and verify this. If you have a recommended Infrared PTZ camera

 

then the operator will be able to use the full capabilities and get a closer inspection, follow the intruders movements and assess the situation accurately.


Record Evidential Footage


Whilst the operator is verifying and tracking the intruder, the camera is capturing important evidential footage, which can be invaluable for police investigations, insurance claims or any future legal proceedings once the intruders are captured and arrested. It will provide a clear and indisputable record of events.




Live Audio Warning
Once an intruder is detected and verified by the operator at the control centre, they will issue a live audio warning via a speaker. The speaker is usually in close proximity to the camera, either on a building or as part of a portable CCTV Surveillance Tower

. The audio warning can be a live or pre-recorded message which warns them to leave the premises immediately.





The audio warning is a powerful deterrent and will often be enough to resolve the situation without any further intervention.




Police or security dispatched to site


As we mentioned above, the audio warning is usually enough but if the intruders ignore this then the ARC will contact the local police or security services.





When police or security are attending site they will prioritise you as a requirement as they understand that a highly accredited gold monitoring team have verified the situation in real time




Evidence Provided


The last step is to provide the footage to yourself, and police if required, as evidence. If criminals are caught this footage is brilliant for prosecutions.



What are the best camera solutions for Remote Monitoring on Construction Sites?
There are lots of cameras that can be used for construction site security, we talk more about this in more detail in The Complete Guide to Construction Site Safety & Security, but what are the best cameras for Remote Monitoring?
Well, we've already touched on this briefly earlier, you'll be looking at an Infrared PTZ Camera. PTZ stands for Pan Tilt Zoom and this functionality gives a 360 degree view wherever you place the camera.
Take a look at the short video below to see how Infrared PTZ cameras and Remote Monitoring work seamlessly together to help prevent theft from construction sites.
How to choose the right Remote Monitoring service for your Construction Site
When choosing the correct remote monitoring service for your construction site, you will need to consider a few things:
How big is the site?

How many cameras will you need?

Will you need to move the cameras partway through the project?

What level of service do you require?

How do you view the cameras remotely?
All these questions and more depend upon your requirements.
For expert advice and guidance on how to secure your sites, WCCTV is the industry's choice. If you are looking to get a quote for managed CCTV cameras for any upcoming sites contact us today.