Case Study Background
Working on behalf of Bournemouth Borough Council, Mackley was tasked with clean-up operations after parts of Bournemouth's East Cliff collapsed during a landslip in April 2016.
The operation began after tonnes of rock and rubble plunged 100ft onto Bournemouth promenade and included removing the lift carriages from the East Cliff funicular railway, which links Bournemouth seafront with the promenade and town centre beyond.
A 120-tonne mobile crane was used to remove loose debris from the slope and cliff lift, including rock-filled gabion baskets and loose boulders.
Once the debris was cleared from the tracks, the lift carriages were raised off the restraining rails and up to the working site at the top of the cliff.
The Challenge - Site Security and Project Overview
Due to the site's geographical makeup, Mackley faced the challenge of having their crane operator complete works over the edge of a cliff, where the operator would have no visibility of what was happening below.
Mackley determined that they would need to provide the crane operator with a live video stream of the site below the cliff's edge to give clear awareness and guide all crane activity.
As this was a temporary application, the installation of cabled/fixed CCTV to provide this video was not practical or financially viable.
Additionally, given the works were taking place in an area of high public activity, Mackley required a quality security solution to protect assets outside of working hours.
The Solution
Mackley contracted WCCTV as a specialist manufacturer and supplier of surveillance cameras that transmit both live and recorded video utilising wireless networks (4G/3G/Wi-Fi).
WCCTV provided Mackley with a WCCTV 4G IR Speed Dome attached to railings above the cliff. The crane operator received live footage from the camera on an iPad placed within his cabin, using WCCTV's free mobile viewing app.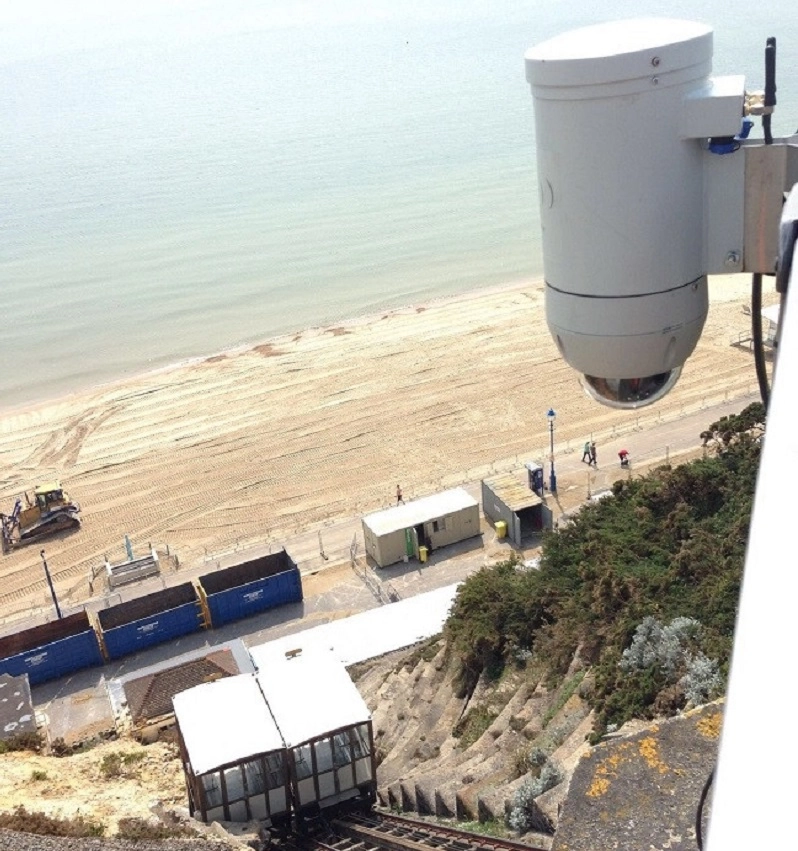 To protect the sites, WCCTV provided two WCCTV HD Site Towers to keep an eye on valuable assets.
The portable WCCTV Site Tower integrates an IR PTZ camera, multiple motion detectors and audio speakers backed by high-end alarm monitoring and response, effectively eliminating the need for costly manned-guarding.
The Result
The clean-up operations were completed successfully and in good time, with the live video from the WCCTV Mini Dome proving an invaluable element of the project.
WCCTV has since worked with Mackley on many projects and continues to protect sites for them using innovative wireless technologies.
Find out more
Mackley - Cliff clean-up operations
Related content