Case Study Background
The Royal Navy commissioned Morgan Sindall Construction to construct a major head office and training facility at HMS Cambria to house the Royal Naval Reserve, Royal Marines Reserve and University Royal Naval Units.
Construction at the site began in January 2019 and was handed over to the MoD in February 2020 for final preparation before the nay reservist took residence in May 2020. 
HMS Cambria provides accommodation for up to 50 people, alongside a modern office environment with 80 workspaces, several training and classroom suites, a fitness room and a large, multi-purpose dining room. Outside, there is a Royal Marine rope training area, car park and parade square.
Managed CCTV for Construction Site Security 
The Challenge - Site Security and Time Lapse Video Requirements 
Site crime remains a major challenge, with approximately 6000 break-ins per year, costing the industry upwards of £800m.
As well as the direct cost impact of theft of plant, machinery and tools, site theft can also cause major delays that have significant cost impacts for contractors and their clients. 
Given the high-profile nature of the HMS Cambria site and the tight deadlines Morgan Sindall was working towards, losing time due to break-ins was something they wanted to guard against at all costs. 
In addition to the security requirements, Morgan Sindall were also keen to produce a high-quality time lapse video of the construction phase.
As there would likely be a high media interest level in the project, it was an ideal opportunity for the Company to promote their services' quality and efficiency.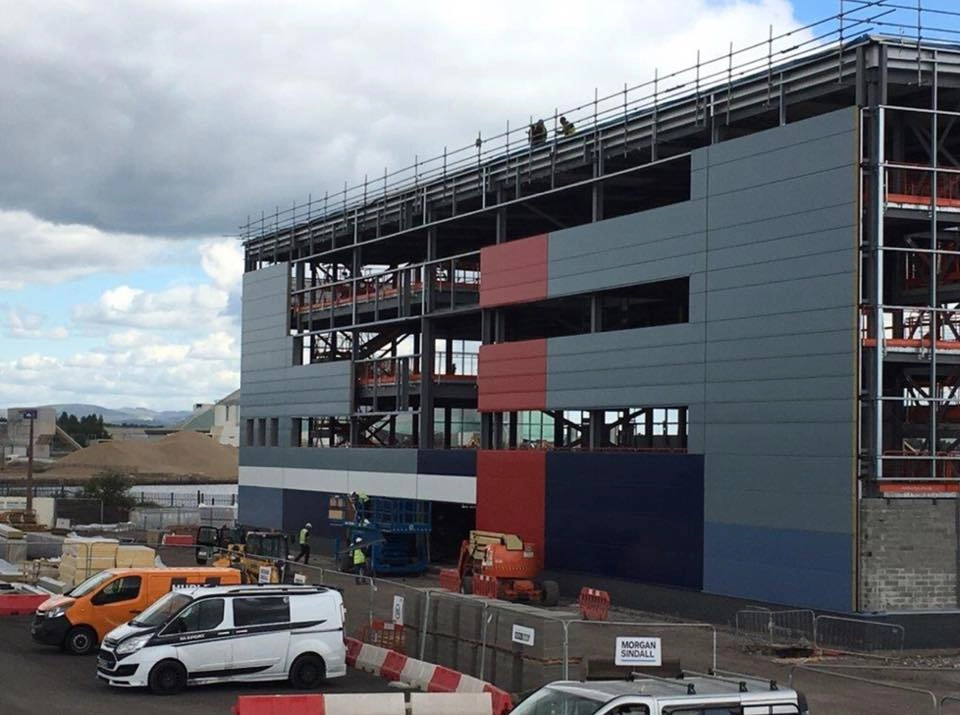 The Solution - WCCTV Construction Site Security Services
WCCTV has established a reputation for providing the UK's highest quality construction site security services, so when Morgan Sindall sought a security partner for the HMS Cambria project, WCCTV were the obvious choice. 
To secure the site, WCCTV provided a Rapid Deployment CCTV Tower, backed by a fully managed service that included installation, alarm monitoring, ongoing maintenance, support and performance reporting. 
WCCTV's Towers are 7m tall, bright yellow, highly-visible deterrents that help prevent trespass and intrusions onto sites before they occur.
They contain in-built 4G transmission of video and alarms, an HD infrared, 360° PTZ camera, audio speakers to enable a remote challenge to occur and local recording capability storage of evidential footage.
Additionally, WCCTV's Towers feature secondary video channels that allow for the addition of high-quality time lapse video cameras. 
This allowed Morgan Sindall to capture all the critical milestones of the construction phase without commissioning two separate contractors to provide video services. 
At the end of the project, WCCTV provided a fully-edited video that has been shared across multiple digital platforms, generating publicity for both the Royal Navy and Morgan Sindall. 
The Result
WCCTV's rapid deployment CCTV Tower ensured that the site remained protected at all times throughout the construction. This allowed the project to keep to timescales and provided peace of mind for Project Managers.
Several media publications picked up the Time Lapse Video, helping raise the contractors' profile and engaging people in the local area, from military enthusiast to residents. 
Learn More
WCCTV Construction Site Security 
Construction Time Lapse Video Filming and Production
Related content