Case Study Background
Team Fusion is a global market leader in providing corporate security services and close protection.
As part of its high-profile and diverse portfolio, the Company was contracted to secure the filming location of 2021's season of I'm a Celebrity Get Me Out of Here.
Due to the global pandemic, filming of the popular ITV reality series was moved from Australia to Gwyrch Castle near Abergele in Conwy, North Wales.
The Challenge
Team Fusion was responsible for all aspects of security throughout the production of the TV programme. This included securing all areas during set-up, filming and post-filming.
There were a number of factors that meant this would be a wholly unique security challenge.
Firstly, the remoteness of the location meant that deploying traditional fixed-CCTV systems would not be possible., the sprawling area used for filming meant the were several challenges relating to creating a secure perimeter around the castle grounds.
Finally, the high-profile nature of the show, the celebrities involved, and the fact that the filming location was publicly known meant there was likely to be significant footfall around the location.
The Solution
Throughout 2021, WCCTV was involved in securing a number of extremely high-profile events, including the G7 Summit and the COP26 Climate Change Conference.
The commendations and recognition WCCTV has achieved for its involvement with these projects reached security leaders at Team Fusion, who saw WCCTV as the ideal CCTV and monitoring partner for the I'm a Celebrity… site.
As part of the overall security solution, WCCTV provided four of its Rapid Deployment Fuel Cell Towers and two Redeployable CCTV Cameras.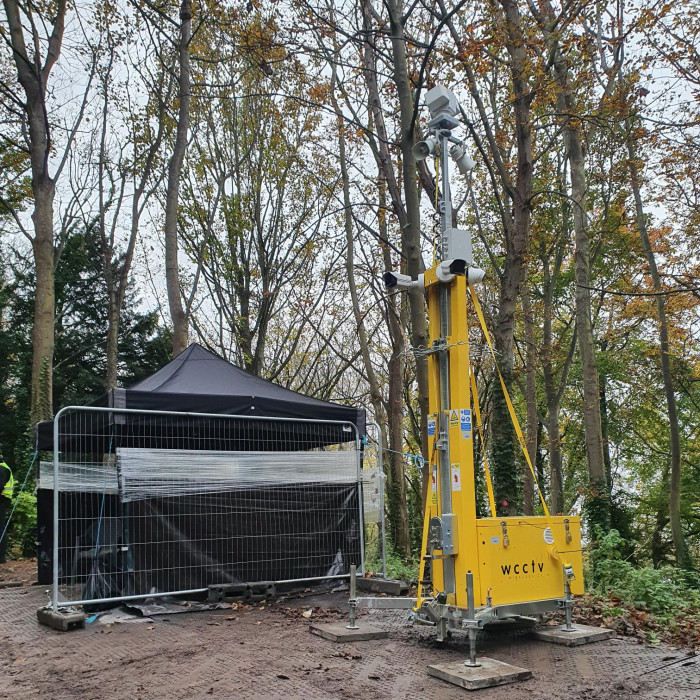 The Rapid Deployment Towers are entirely autonomous of both power and video transmission, utilising eco-friendly methanol and 4G mobile networks, making them ideal for remote locations.
The Towers stand 7m tall and are painted bright yellow, making them an obvious deterrent that helps prevent trespass and intrusions onto sites.
The built-in 4G transmission of video and alarms, HD infrared, 360° PTZ camera, and audio speakers enables a remote challenge to occur if a trespasser is spotted. Local recording storage of evidential footage is also supported.
The Result
Despite the unique challenges they faced, Team Fusion was able to provide a robust security service throughout the production.
The combination of their world-class experience and the industry-leading security technology provided by WCCTV meant they were able to have eyes on all critical locations 24/7.
WCCTV's licence-free desktop software and mobile app meant security officers from Team fusion were able to access the cameras on demand, whatever their location – giving constant situational awareness.
Ready to find out how WCCTV's managed CCTV services can assist with site security? Get in touch today on 0800 470 4630 or email sales@wcctv.com.
Related content