Project Background
Willmott Dixon is a construction and property services company operating across the UK. They're one of the largest construction companies in the UK and have been a part of numerous custody suite builds throughout the nation.
Their latest project is a custody suite build in Dafen, Llanelli, Carmarthenshire. Willmott Dixon has been on site since autumn 2021, with completion due in 2023.
It will provide an 18-cell unit with excellent facilities to meet the needs of modern law enforcement and detainee wellbeing for Dyfed Powys Police.
The Challenge - Remote Construction Site Security
Given the site's location, Willmott Dixon is keen to protect against potential intrusions and theft of plant machinery, which would cause significant delays to the project.
At the start of the project, there was no power available to have traditional CCTV installed. Therefore, they needed a completely autonomous solution that would act as a proactive security system.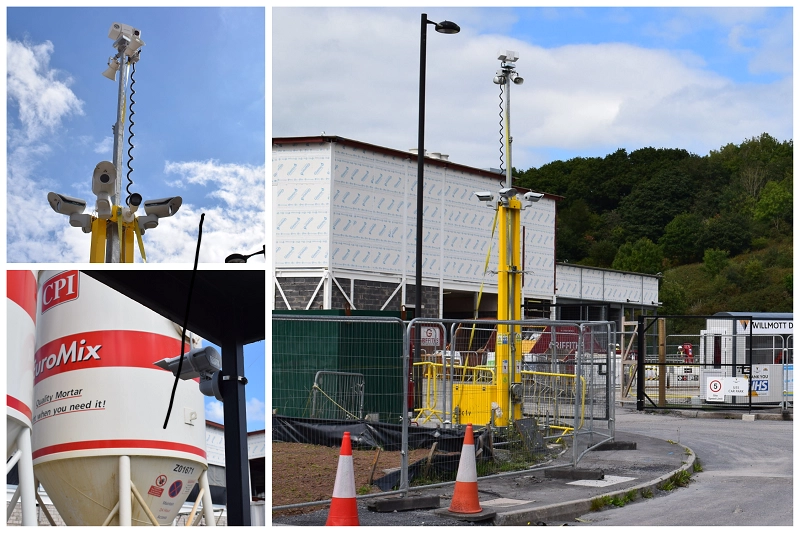 The Solution – WCCTV Managed Security Services
Initially, WCCTV provided Willmott Dixon with a WCCTV HD Fuel Cell Site Tower, backed by a fully managed service that included installation, alarm monitoring, ongoing maintenance, support, and performance reporting.
The 7m, bright yellow Tower provides an obvious deterrent to opportunist thieves. It also delivers live and recorded video and alarms via 4G connectivity. It is self-powered by renewable energy backed by a methanol fuel cell - making it the ideal security system for a site with no power.
As the project developed and power became available, WCCTV replaced the autonomous unit with a WCCTV HD Site Tower coupled with several static CCTV cameras to provide extra coverage in blind spots behind cabins.
Additional Benefit - Time Lapse Video
Uniquely to WCCTV, all our Rapid Deployment CCTV Towers feature secondary video channels allowing HD construction time-lapse cameras to be added as a value-added service.
This allowed Willmott Dixon to document all onsite progress without employing two separate video suppliers.
The Result
Throughout the ongoing project, the WCCTV Rapid Deployment CCTV Tower has provided robust security, predominantly as a deterrent to opportunist theft.
Thanks to the ongoing, proactive security, the site was unaffected by losses or delays due to theft, criminal damage, or accidents. It has allowed Willmott Dixon not to miss any deadlines or incur costly delays or losses.
A statement from Martin James, Site Manager for Willmott Dixon at Llanelli Custody Suite:
"We get full coverage from the WCCTV Systems, with no theft. It is an excellent system and is comparable with other projects we've used you guys on previously."
"Also, this CCTV system gives you the benefits of just keeping an eye on the site on the weekends, plus it's also monitored, so it's nice coming in on a Monday morning, not thinking that we've been broken into."
"It's been brilliant."
Learn more
WCCTV Construction Site Security