As an award-winning provider of apprenticeship opportunities across a broad spectrum of disciplines, WCCTV is proud to support National Apprenticeship Week, February 8th - 14th.
To mark the week, we have spoken with a number of our current apprentices to hear what they have gained by undertaking an apprentice with WCCTV, why an apprenticeship was the right path for them, and what advice they'd give to people considering their next career step.  
In the video below, WCCTV Production Apprentice, Charlie Brocklebank, explains how an apprenticeship has helped him develop both personally and professionally. He has some straightforward advice for anyone considering an apprenticeship - "just go for it!"
Wireless CCTV is incredibly proud of its award-winning apprentice and traineeship programme, and the Company was recently named as Rochdale's Skills, Education and Training Provider of the Year.
Explaining the Company's passion for developing from within, WCCTV's Senior HR Business Partner Dianne Atkins said:
"WCCTV believes passionately in growing from within, upskilling junior employees so they can become our future managers and leaders, as well as supporting our mid and senior-level managers via company supported professional qualifications.
Currently, over 10% of our global workforce are apprentices, learning new skills in a practical environment while making vital contributions to the Business."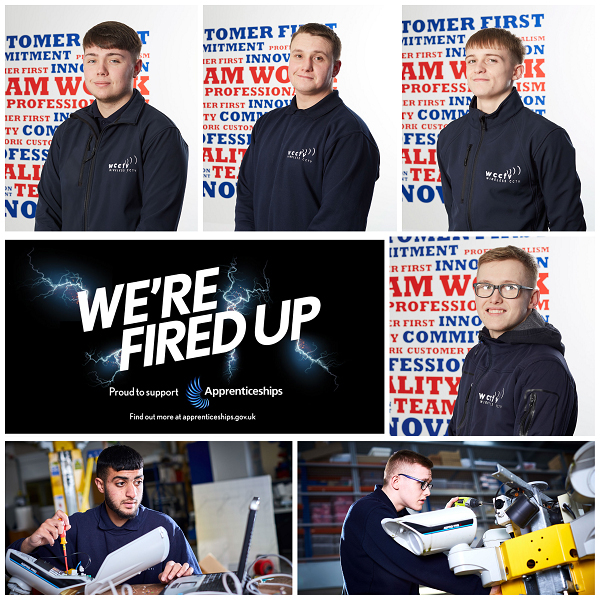 "We're particularly proud of our track record in providing career opportunities to young people across the Borough. We've worked hand-in-hand with local schools, colleges and universities for several years to provide industrial placements and traineeships.
That over 50% of our placement students take up full-time positions with the Company following graduation, with over 30% of these moving into management positions, is something we are extremely proud of." 
In the video below, WCCTV Production Apprentice Jazz Dixon details the career and development opportunities a WCCTV apprenticeship has given him. 
His story is just one of many successes we're proud to shout about, see more about our people here. 
Careers at WCCTV
WCCTV has a proven record of training and developing its employees, ensuring each team member is equipped to deliver quality throughout the business. It is this commitment that has led to our accreditation as an Investors in People - Gold company. 
If you're interested in starting your own success story with WCCTV, take a look at our current vacancies.
If we're not currently advertising for a role that matches your skills, consider sending us a speculative application along with your CV to humanresources@wcctv.com.