WCCTV highlights the key components of rapid deployment CCTV Towers, why they are so effective, and how they support multiple security applications.
If you're looking for a way to boost security at a remote or temporary site, such as a construction project or major event, then a Rapid Deployment CCTV Tower is the ideal solution. 
Rapid Deployment CCTV Towers offer a range of benefits, from speedy installation to around-the-clock monitoring for your critical assets. They are specifically designed to Detect, Deter and Defend your sites from criminal activity.
They also provide several supplemental benefits such as time lapse video recording and health and safety benefits.
WCCTV, the UK's leading manufacturer and supplier of CCTV Tower, below highlights the key components of these unique security systems.
What Are Rapid Deployment CCTV Towers?
WCCTV defines a Rapid Deployment CCTV Tower as:
"An all in one security system designed for rapid installation, portability, and visibility at sites with little-to-no supporting infrastructure."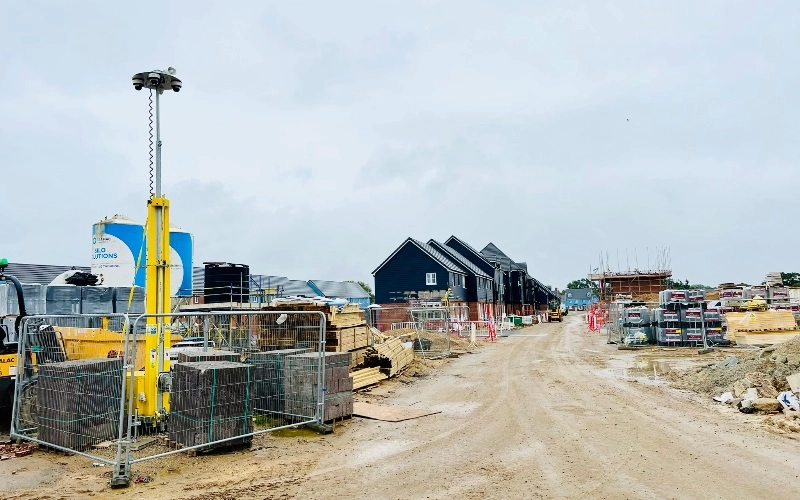 To expand on this description, the defining characteristics of a Rapid Deployment CCTV Tower include:
A highly visible presence 

Adjustable mast to raise the height of the Tower as required

Integrated video transmission platform (usually utilising mobile transmission)

An integrated hard drive for video recording 

Motion detection sensors (wired and/or wireless)

An infrared PTZ camera

Multiple powering options
The most integral feature is that they are rapid to deploy, meaning they can be installed in minutes to protect whatever location requires surveillance. 
This rapid deployment comes from the CCTV Towers requiring no cabling, no civils work, and often don't even need a power source to be operational. 
For a temporary application, this is why they are so much more preferable to fixed CCTV systems. 
Key Features of Rapid Deployment CCTV Towers
Some of the essential features of Rapid Deployment CCTV Towers have already been explored in our recent article on Choosing the Best Construction Site CCTV System. 
That article provides an in-depth analysis of what potential users of CCTV Towers should expect to receive as a minimum. 
A summary of these features includes:
HD Video Quality: To adequately detect and confirm intrusions onto your sites, HD video quality is a must. WCCTV typically supplies its rapid deployment CCTV Towers with cameras capable of 1080p and above

Remote Access: Accessing your cameras no matter your location is essential to ensuring your site is fully protected. WCCTV's towers have inbuilt 4G capability. Users can access the cameras via our free app, desktop software - or, more often, the images are sent directly to our partner monitoring station.

Local Storage Capability: WCCTV's Towers contain onboard storage to review any incidents retrospectively, and users can back up all video clips for evidential usage.

Multiple Powering Options: Many remote or temporary sites lack a fixed power supply, so WCCTV's towers can be autonomously powered by solar energy and environmentally-friendly methanol fuel cells. 

Motion Detection: A WCCTV rapid deployment Tower can be fitted with multiple wired and wireless motion detectors that will alarm if an intrusion is detected. The cameras automatically pan to the area where the sensor has triggered. 

Remote Diagnostics: WCCTV's Towers feature a unique Heartbeat diagnostics tool that remotely detects any fault with the cameras as soon as they occur. We can pair this with the WCCTV Smart Switch, which allows the unit to be remotely power-cycled, correcting over 95% of errors. 

Accessories: WCCTV's Towers units feature three additional output channels allowing for the addition of time lapse cameras, voice address systems, sirens, blue light alarms and more. These will enable us to build a customised bespoke surveillance system to fit the user's requirements. 
Use Cases For Rapid Deployment CCTV Towers
WCCTV has been supplying rapid deployment CCTV Towers since 2001. We have consistently led the market in terms of technology, the number of active unit deployments, customer support and the developing of products that meet the exact requirements of several key sectors. 
In our experience, the following applications are the most appropriate for CCTV Towers:
Construction Site Security
Rapid Deployment CCTV Towers are ideal for construction site security as they require zero supporting infrastructure and can be up and running in a matter of minutes. 
Installing a fixed CCTV system at a temporary worksite is cost-prohibitive and wouldn't provide the flexibility to support a constantly changing environment. 
Due to their portability, WCCTV's Towers can be moved around a construction site as it develops, helping site managers respond to new surveillance requirements.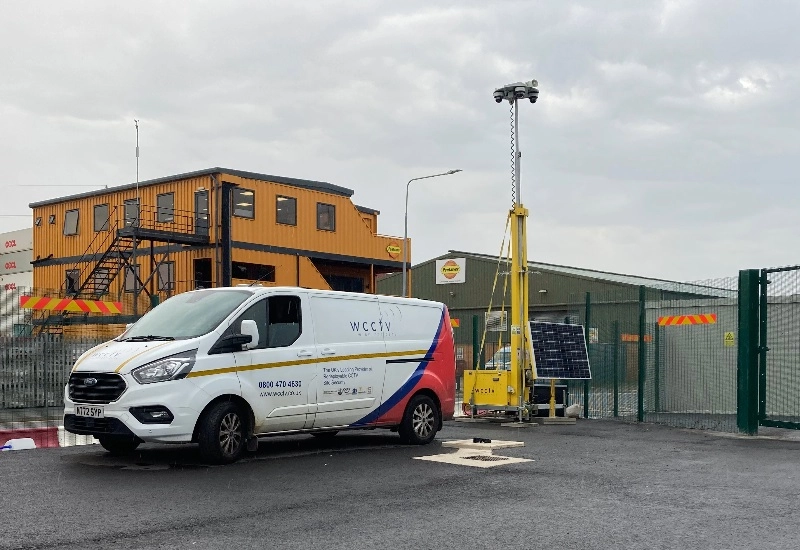 Critical Infrastructure Site Security
Critical infrastructure sites, including power stations and the rail network, are at risk of vandalism, metal theft and more serious crimes such as terrorism. 
CCTV Towers provide a proactive and reliable alternative to utilising costly man-guarding solutions at these locations. 
The presence of a CCTV Tower acts as a deterrent to criminal behaviours. With remote monitoring and response backing every WCCTV CNI deployment, they help stop criminals in their tracks.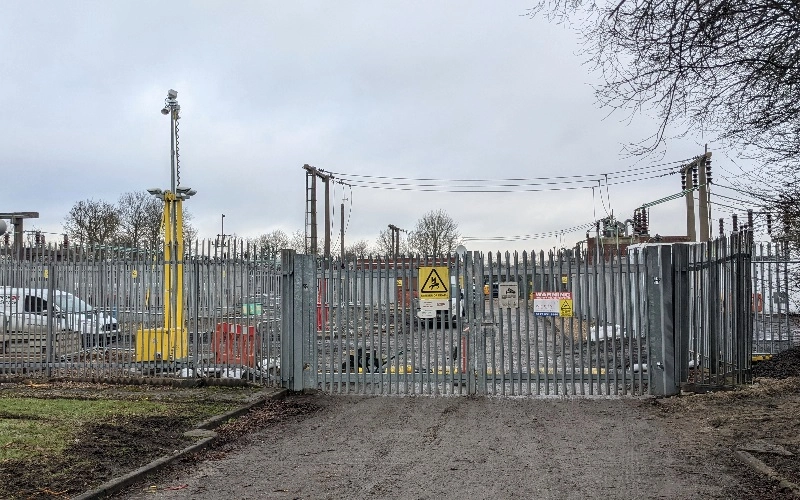 Major Events Security
Events are short term by their nature but often require a bespoke security response and a high degree of situational awareness. 
WCCTV's rapid deployment CCTV Towers have been used at some of the highest-profile events, including the COP26 Conference, G7 Summit, the Olympic and Commonwealth Games and several of the UK's major music festivals. 
They are fully autonomous systems with remote video access, making them a must-have security solution for any major event.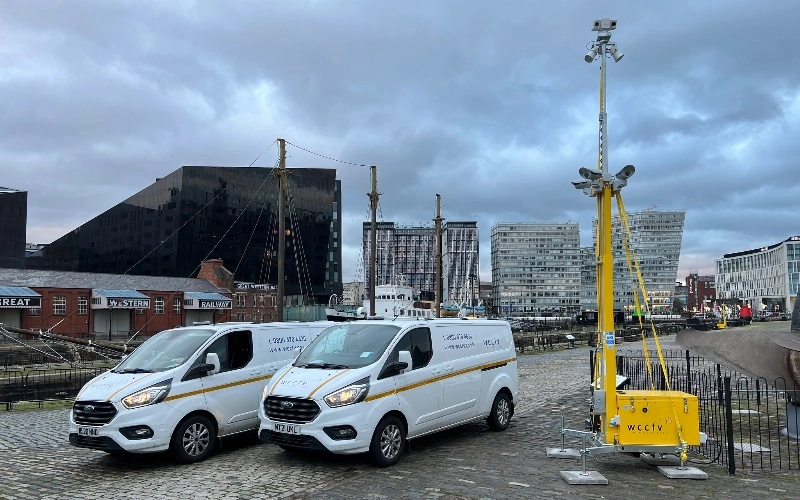 The Benefits of Rapid Deployment CCTV
WCCTV has previously explored the Benefits of Rapid Deployment CCTV Towers. That article gives an in-depth exploration and analysis of the many benefits of CCTV Towers and how they compare to security guards and fixed CCTV systems.
Below, we summarise some of the key findings and offer a synopsis of the breadth of benefits CCTV Towers offer. 
1. They Are a Visual Deterrent
Standing at 7m tall and painted in an unmistakable fluorescent yellow, WCCTV Towers are an obvious solution.
An opportunist thief will immediately notice the CCTV Tower on your site and look for an easier target. Take a look at the full benefits of overt CCTV systems here. 
2. They Capture Evidence
If the CCTV Tower fails to deter a criminal act, they will capture all the evidence you need of precisely what occurred. The cameras continuously send images to our monitoring partner and record locally 24/7.
The evidence captured by the high definition cameras can help with any police investigation and ensure you get any stolen property back. 
3. They Prevent Crime
A CCTV Tower is much more likely to spot an intruder on your site than a security guard is. Why? Because they can see in the dark for over 100m!
Spotting a threat to your site in real-time allows for an immediate crime prevention response, including issuing a live audio challenge and despatching local police. 
4. They Have Multiple Supplemental Benefits
CCTV Towers don't just provide security; they can also be utilised to capture incredible time lapse video recordings of your construction or demolition projects. Check out some of the key benefits of time lapse video here. 
Project Managers can also use the cameras to check on sites to ensure all health and safety regulations are being followed and review footage of any accidents or near-misses to provide better site safety.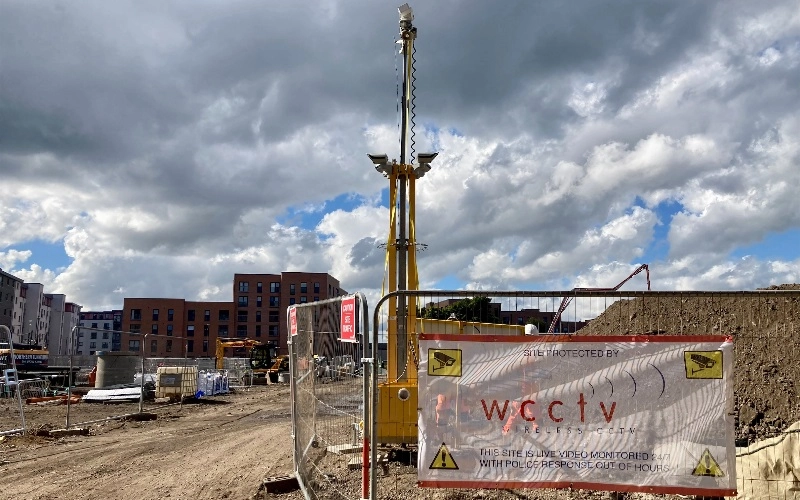 Why Use WCCTV Rapid Deployment Towers?
WCCTV is the UK's most established rapid deployment CCTV Towers supplier, with more active systems nationwide than any other supplier. 
Our experience, world-class customer support and leading-edge technology make us the ideal security partner for anyone looking to install temporary CCTV solutions. 
We manufacture our equipment and do not rehire, resell or rebadge someone else's equipment, allowing us to provide direct support and competitive pricing. 
Our service is the most comprehensive available in the marketplace and ensures your sites remain safe. 
Ready to learn more about how WCCTV's rapid deployment CCTV Towers can assist with your applications? Contact our team today on 0800 470 4630 or email sales@wcctv.com.
Like this article? Please share it with your network.
Related content