WCCTV has created an Infographic explaining the benefits of using a CCTV System within the construction industry.
Construction sites face daily safety and security challenges, ranging from accidents and injuries through to theft, vandalism and trespassing.
As documented in the Why Construction Companies Need CCTV article, site crime remains a widespread issue for the construction industry, with a reported 6000 break-ins per year, resulting in up to £800m of costs associated with equipment loss and project delay, and with stolen equipment recovery rates being alarmingly low, having CCTV security on your site is a no brainer.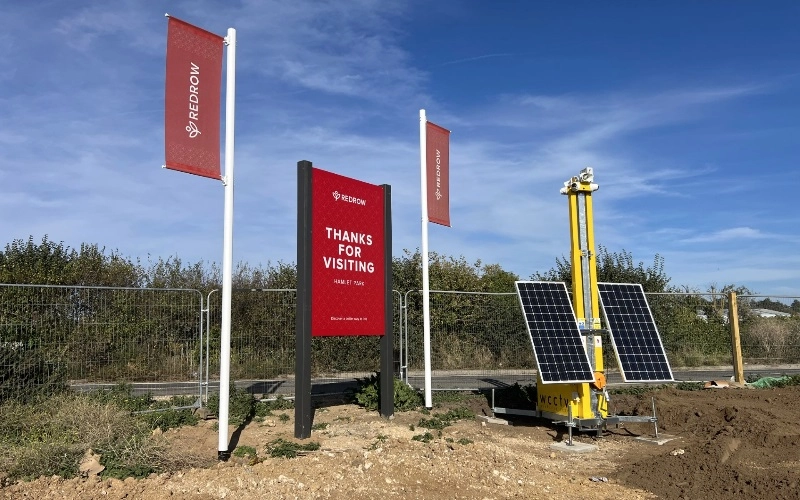 What are the benefits of a CCTV system for Construction Sites?
There are many benefits for site managers and project managers of using a CCTV surveillance system other than just keeping your site secure. Let's take a look at some of them below.
Supervise your workers
Having a CCTV system at your site gives you better visibility of your employees' work rate levels on a regular basis.
Determine how resources are being used
This is invaluable due to the amount of activity taking place on your site to be able to account for your resource usage fully.
Analyse your construction project progress
Effectively respond to any needs that arise, view from your camera how your current project is progressing. This can be particularly useful if you have stakeholders or board members to update and don't want to have excess people on the site.
Deter crime from your construction site
The presence of a CCTV unit on your site can deter vandals from committing criminal offences. They'll likely think twice before trespassing if they know they are going to be recorded, coupled with an alarm that sends out real time audio if trespassers do enter the site will be enough to get them running.
Aid in a criminal cases for prosecution
CCTV footage may serve as evidence in a criminal case to assist the prosecutors to secure the conviction. It can also be used to help identify intruders caught near the site by police.
Aid in a civil personal injury lawsuit
Even though you want your sites to remain free from injury and accidents, your CCTV camera may provide valuable evidence to help throw out a claim.
Manage your construction site remotely
Managing your site remotely can save you time, money and energy of physically going to the site to determine what is taking place. For instance, if you manage multiple sites you can view them all from the site you're visiting that day, rather than go to each one individually.
Promote construction worker safety
Easily monitor your site to see what areas or aspects of it need to be improved to better promote worker safety and thus prevent worksite accidents.
Record injury accidents involving work
Sometimes accidents are inevitable. With a CCTV system on site you can review camera footage frame by frame to analyse a recent injury accident and find out the root cause
Real time updates and feedback
View events at your site in real time. In fact, when using a monitoring station, this can deter theft by using the live audible alerts to ensure they are deterred from your site.
Help with insurance
CCTV systems may minimise how much you pay to insure the property, meaning you are a lower risk, which means lower premiums.
Maintain peace of mind
Crime and accidents can happen anywhere and at any time, so it makes sense to invest in a CCTV system. Decide whether you want to buy or rent your cameras, take into consideration how long the project is going to take, the costs and the benefits of renting CCTV or buying a full system
Around-the-clock coverage
You can't constantly keep an eye on what's happening on your construction site, CCTV records 24 hours a day, 7 days a week, 365 days a year. Hiring security guards or dog handlers are another option but can get expensive so consider the cost effectiveness of mobile CCTV vs Guards 
Managed CCTV and Security Services for Construction Sites
WCCTV is the UK's leading supplier of fully managed construction site security solutions, with more active systems nationwide than any other supplier.
Whether you're looking for video surveillance, time lapse video production, remote access to project manage a site or review health and safety, or the complete package, we can supply you with a personalised solution.
What's the best CCTV system for construction sites?
When it comes to CCTV systems for construction sites then the best solution we can advise is a CCTV Site Tower, this combines both cameras and back up power for an unbeatable combination. 
The 4G Infrared Mini Dome is a PTZ (Pan Tilt Zoom) camera that has a built-in 4TB capacity for local recording as well as 4G transmission technology enabling a remote connection in even the most remote of destinations.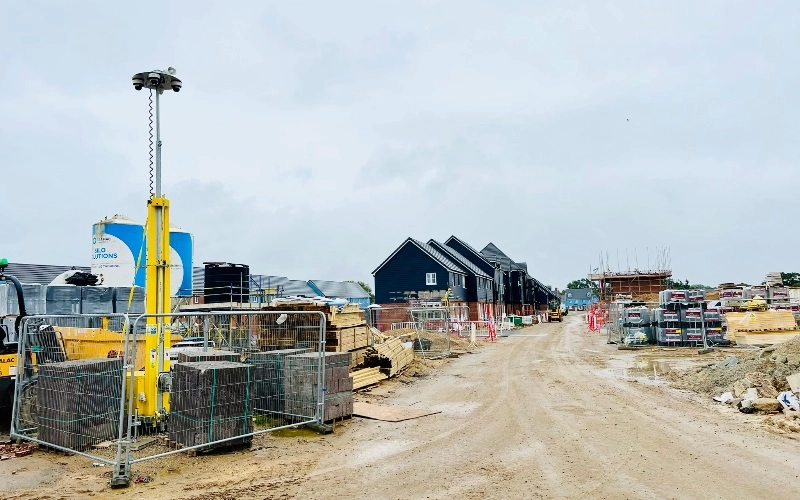 Our HD Eco Site Tower has a long run battery offering up to 150 hours of backup power. This means the tower will run autonomously overnight or over weekends when generators are shut down, this can help save fuel as well as reduce noise and pollution. 
You can also get a Solar CCTV Site Tower which provides everything the HD Eco Site tower has plus full power autonomy, is even more eco friendly and better for the environment and has maximum flexibility.
As an all-in-one surveillance solution, the system contains wireless transmission (4G/3G and Wi-Fi) of video and alarms, an HD infrared, 360° pan, tilt and 36x zoom camera to allow a remote operator to capture images of any potential intruders, audio speakers to enable a remote challenge to occur and local recording capability for the storage of evidential footage.
For expert advice and guidance on how to secure your sites, WCCTV is the industry's choice. If you are looking to get a quote for managed CCTV cameras for any upcoming sites contact us today.