Our security experts explain the difference between security guards and CCTV systems, allowing you to save on your security costs.
Construction Project Managers across the UK are ramping up site security to protect valuable assets such as building materials, fuel and plant from theft or vandalism.
Damage or losses onsite are a major inconvenience, and precious time and money are wasted dealing with the aftermath.
When it comes to site security, choosing between a CCTV system and security can be tough choice.
If the decision boils down to cost alone, there's simply no comparison. A WCCTV Tower backed by remote alarm monitoring is up to 85% cheaper than employing a security guard.
But there are several other factors that must come into play when choosing the right security setup.
Below, our security experts explain the key differences between security guards and CCTV systems.
Security Guards
Traditionally, a security guard was the most effective solution for site security.
Guards patrol sites and report security vulnerabilities, as well as provide a visual presence that acts as a deterrent to criminals.
But their effectiveness is limited, as they can only protect the areas in their immediate vicinity. This could leave multiple blind spots and potential ingress points across your site unsecured.
If a guard is patrolling the right area at the right time, they can be very effective, but large vacant properties and construction sites can take a considerable time to patrol.
Supposing a guard follows a regular patrol, this leaves areas open to vulnerabilities if savvy criminals learn how to avoid being spotted and know that a security guard cannot be everywhere at once.
To protect a site, it is essential your security personnel remain vigilant at all times. Unfortunately, it's all too easy for a guard to become distracted, delayed, or worse fail to report for duty.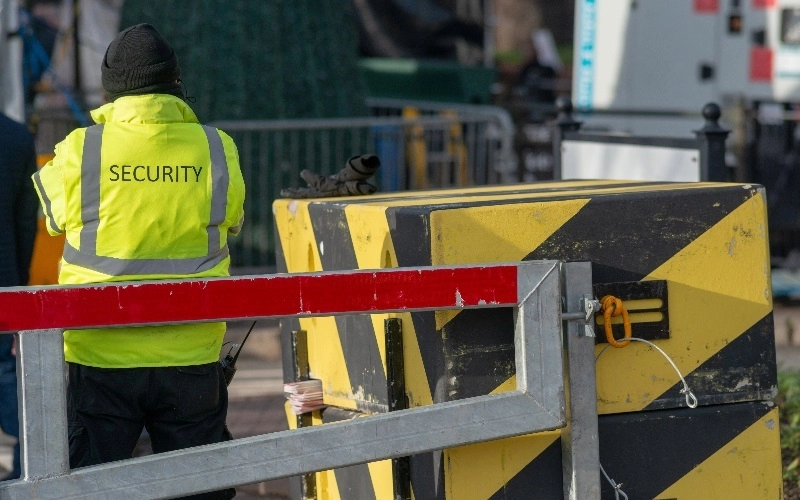 CCTV Cameras
Installing CCTV Cameras on your construction site can significantly deter unwanted intrusions, theft, and vandalism.
Just the presence of a CCTV camera is often enough to deter a criminal from even attempting to access a site, especially if it is one of WCCTV's 7m bright yellow CCTV Towers.
If a camera doesn't deter a criminal, then what happens next almost always does.
All WCCTV's CCTV cameras contain built-in intelligent video analytics and passive infrared detection technology. These systems automatically detect when someone disrupts the perimeter, enters your site, or accesses a restricted area.
When motion is detected, a live alert is sent to our monitoring station where a highly trained CCTV operator will immediately verify the threat.
Upon verification, a custom or live audio challenge and alarms are initiated to prevent and deter the criminal – most attempted perimeter breaches are usually deterred by the audio warning.
This solution also allows for the dispatching of local police to respond to intrusions on your site.
This proactive approach to CCTV provides complete peace of mind and also acts as a virtual security guard – without the need for someone to be present on site.
The cameras also provide footage for retrospective review, so you are able to see how an incident played out. This can be used for multiple purposes such as reviewing how a site breach was attempted, or how an onsite accident or injury occurred.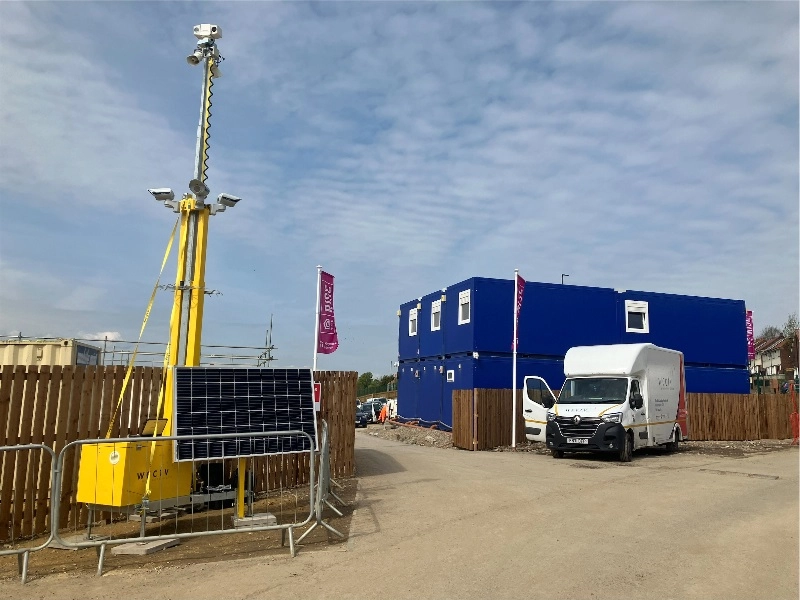 Cost Effective Site Security – CCTV System
Recently we published an article on Reducing Your Security Costs by 85% with WCCTV.
To sum up, our CCTV Towers can replace or work in tandem with security guards, helping to reduce total security spending without compromising quality, results, or reliability.
Unlike security guards, WCCTV technology-based security systems:
Never take a break


Can see in total darkness, up to 200m


Capture video evidence for reporting and police investigation


Can be used for additional applications, including project management and time lapse video recording


Can intervene in real time with no risk of harm


WCCTV: Managed CCTV Cameras for Remote Site Security
WCCTV is the UK's leading provider of managed CCTV systems for temporary and remote construction sites.
We supply our own manufactured CCTV Towers supported by a comprehensive service that includes a site survey, equipment installation, regular maintenance, remote video monitoring, proactive response, and monthly reporting.
We can provide our CCTV systems regardless of your onsite power and internet availability, as they are completely autonomous solutions.
Ready to find out how WCCTV's Rapid Deployment CCTV Towers can assist remote site security? Get in touch today on 0800 470 4630 or email sales@wcctv.com.
Related content