Case Study
 Background
RES (Renewable Energy Systems) is the world's largest independent renewable energy company with 35 years of experience.
They have developed and/or built over 16,000 megawatts (MW) of renewable energy capacity worldwide and supports an operational portfolio of assets exceeding 3,000 MW.
RES is responsible for the four-turbine wind farm at Woolley Hill, between Woolley and Ellington villages in Huntingdonshire.
Woolley Hill Wind Farm became fully operational in March 2015, triggering community benefits of £50,000 per year.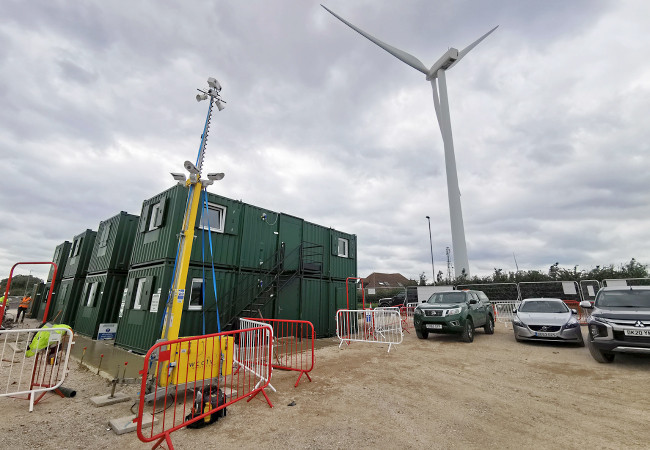 The Challenge - Remote Site Security
Work on-site began in March 2014, with turbine deliveries taking place in the autumn. All four Nordex turbines were erected by the end of November, and each stands 130.5 metres high to the tip of the blade.
During the construction phase, RES required around-the-clock, proactive security solution to protect assets and equipment on site.
The Solution - Rapid Deployment CCTV Towers
Wireless CCTV was proud to offer a bespoke, cost-effective and environmentally friendly solution to RES's security needs at Woolley Hill Farm, which has now been utilised on many UK wind farms during the construction phase.
Wireless CCTV provided RES with a WCCTV Eco Site Tower, a rapid deployment CCTV tower designed for site security at sites requiring remote monitoring where generator power is available.
The Eco Site Tower features a long-run battery offering a minimum of 150 hours of battery backup power; this provides sufficient charge to run the WCCTV Eco Site Tower overnight or over the weekend, allowing generator shut down and helping JN Bentley save on fuel, reduce their noise levels and adhere to considerate contractor regulations.
WCCTV's Towers are truly rapid-deployment CCTV systems, meaning they can be installed and fully-operational in just a matter of minutes, ensuring sites are fully protected.
The Result
RES Group is now using the WCCTV Eco Site Tower to monitor the Woolley Hill site from a central station. If any movement is detected, it automatically generates an alarm back to the control room. An operative can view live video and pan, tilt and zoom the camera to ascertain what caused the alarm.
If an intruder is detected, the monitoring station can issue an audio challenge; if this does not dissuade the intruder, then the police or a locally placed key holder are contacted.
"I am thrilled with the quality surrounding both the products and services provided by WCCTV. The Eco-Tower has enabled us to keep the project as sustainable as possible whilst keeping costs low and has successfully detected and prevented disruption and intrusion at our sites."
Construction Project Manager, Woolley Hill Wind Farm
Related Links
Managed CCTV for Utility and CNI Sites
The Benefits of Rapid Deployment CCTV for Construction Sites
Ready to find out how WCCTV's Rapid Deployment CCTV can assist with site security? Get in touch today on 0800 470 4630 or email sales@wcctv.com.