Case Study Background
BAM Nuttall delivers key infrastructure projects across the UK, working with public and private sector clients across various sectors, including rail, highways, air, marine, tunnelling, energy and water.
The work at Pluckley Substation is for a switch gear renewal on the high-voltage site, with other high-voltage and low-voltage sites being upgraded.
The Challenge – Site Security Requirements
These work compounds are situated at rail stations, usually in suburban areas.
Due to the high value of materials left on-site at closing hours, including protective cabling, electrical gear and power tools, there was a pressing requirement for security measures around site.
This requirement was coupled with the added challenges of rail strikes which meant the site was closed for several days, leaving it vulnerable to criminal activity.
BAM, therefore, required a proactive security system to protect its compound from intruders and eliminate the risk of theft that would cause significant delays and costs to the project.
The Solution – WCCTV Construction Site Security Services
WCCTV are one of BAM's preferred security partners, and were asked to supplied two HD Solar Fuel Cell Towers for complete compound security.
WCCTV's self-powered CCTV systems are backed with a service that included installation, alarm monitoring, ongoing maintenance, support, and performance reporting.
One CCTV Tower was located near the site entrance and the second had a full view of the compound to detect any intrusions.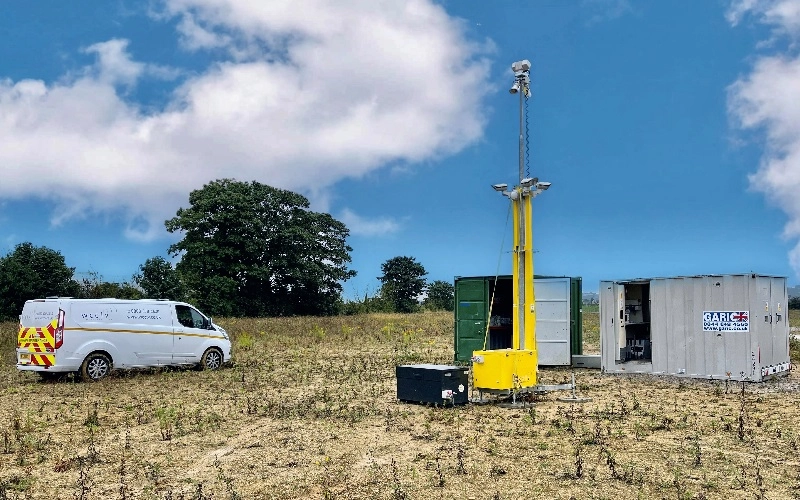 The systems also act as a visible deterrent to thieves, standing at 7m tall and painted bright yellow they send an unmistakable message that the site is being watched.
They contain in-built 4G transmission of video and alarms, an HD infrared, 360° PTZ camera, audio speakers to enable remote challenges, and local recording capability to store evidential footage.
Due to the site shutting down for specific periods due to strikes and being closed during night-time hours, the benefits of the remote monitored CCTV allowed for the peace of mind that any would-be criminals would be detected and then deterred from the site – which is a part of WCCTV's Managed Service Package.
The Result
WCCTV's CCTV Towers, coupled with remote monitoring, became a virtual security guard that kept BAM's site secure at all times, and at a fraction of the cost of human guards or alternative CCTV systems.
The site's contents and perimeter were protected during non-working hours on all accounts, with virtually no false alarms. If someone was to enter the site, the security experts at the monitoring station were straight on to them, and the site manager followed the procedure in place for trespassing.
A statement from Kim Brown, Site Manager for BAM Nuttall:
"It's just secure all the time; we don't get false alarms, nothing like that.
I'm just pleased with the installs; they have been good.
They take it (CCTV Tower) away when we ask them to, and they do what they're made to do!"
Learn More
WCCTV Construction Site Security