Case Study Background
Cheshire East Council appointed GRAHAM Construction to provide a new 5.5 km bypass for Congleton.
The Congleton Link Road joins the A534 Sandbach Road with the A536 Macclesfield Road and has helped to reduce town centre traffic congestion, cut pollution and improve air quality in the surrounding areas.
As part of the project's socio-economic benefits, the link road will also support the development of new sites and improve access to jobs at Radnor Park Industrial Estate and Congleton Business Park.
The Challenge - Site Security and Trespass Prevention
With a sprawling worksite that passed close to many residential areas, the construction site attracted many unauthorised visitors.
GRAHAM had appealed to the local media to highlight the dangers of trespassing on construction sites, noting that over the summer period, families were entering the site to use the site as a play area.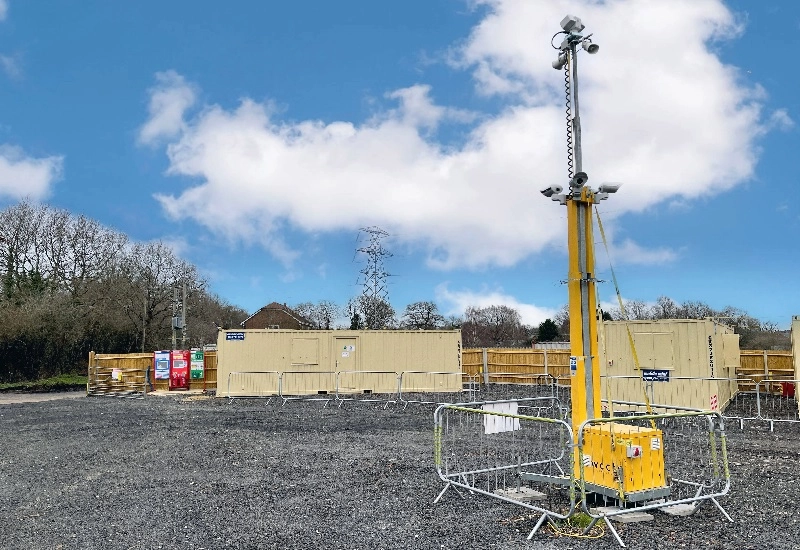 The Solution - Rapid Deployment CCTV
Wanting to protect both the site and the general public from the many hazards associated with construction sites, GRAHAM contracted WCCTV to provide a complete site security solution. 
WCCTV supplied its Rapid Deployment WCCTV Fuel Cell Towers to provide 24/7 security at the site. These completely autonomous all-in-one security systems stand 7m tall and bright yellow, acting as a powerful visual deterrent to opportunist thieves.
They also deliver live and recorded video and alarms via 4G connectivity and is self-powered by renewable energy backed by a methanol fuel cell - making it the ideal security system for off-grid sites.
All WCCTV's rapid deployment CCTV systems are backed by a fully managed service, including equipment installation, video monitoring, audio challenge, and ongoing maintenance and support.
The Result - Visual Deterrent and Evidential Footage
The presence of the 7m tall, bright yellow rapid deployment CCTV Towers and associated signage proved to be an effective deterrent to trespassers.
This enabled GRAHAM to complete works on time, without any damage caused to the site or any issues surrounding injuries caused to the public.
Additionally, GRAHAM used HD video footage captured by the cameras to secure a successful prosecution following the theft of plant equipment from the site. GRAHAM were able to recover their losses without impacting on insurance premiums. 
Learn More
WCCTV Construction Site Security 
Construction Time Lapse Video Filming and Production
Related content