Case Study Background - Gas Holder Decommission 
KDC, a market leader in decommissioning, demolition and land remediation, was contracted by SGN to decommission two historical gas holders at a site in Johnstone, Scotland.
The first gasholder was a below-ground, spiral guided construction with four lifts of riveted steel and a brick and puddled clay tank that had been in operation for over 82 years.
The second gasholder, built in 1912, was an above-ground spiral guided holder with two lifts of riveted steel and a steel tank.
The Challenge - Site Security and Time Lapse Video Requirements
Throughout the decommissioning process, KDC required a solution to help them maintain health and safety for their workers.
KDC staff were tasked with excavating the two gasholders of 8540m3 of water and 260m3 of sludge within the tanks, then filling the holder voids with recycled, non-hazardous waste from the demolition process - approximately 6720 tonnes. 
Also, KDC needed to have site security in the form of a CCTV surveillance system that was able to help deter intruders and prevent any theft of their assets by proactively identifying any unauthorised personnel entering the site.
Finally, KDC wanted to produce a time lapse video of the decommission. KDC would use the time lapse video for marketing and business development efforts by demonstrating their work's quality and efficiency across online platforms and their corporate website.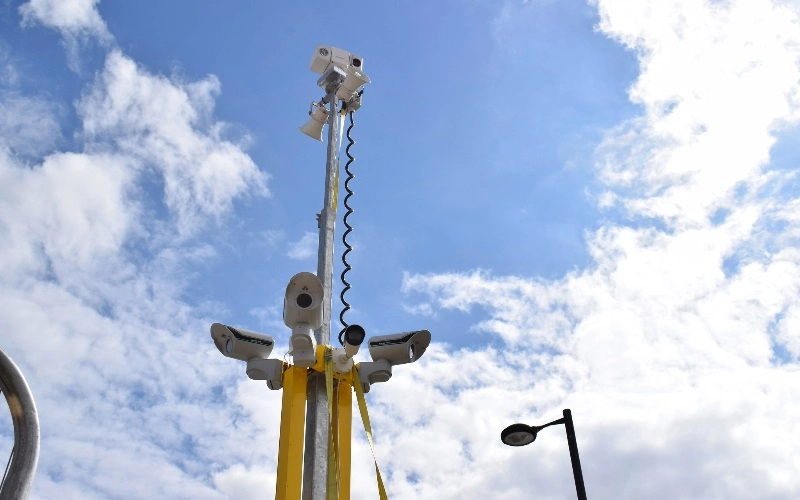 The Solution - WCCTV Managed Construction Site CCTV
KDC contracted WCCTV as a specialist provider of rapid deployment CCTV towers for site security and time lapse video production services.  
WCCTV provided KDC with three WCCTV Eco Site Towers, one of which was fitted with a fixed high definition camera to capture time lapse video footage.
The WCCTV Eco Site Tower is an all-in-one CCTV Tower for site security. It features a long-run battery offering a minimum of 150-hours battery backup power. This provides sufficient charge to run the Tower overnight or over the weekend, allowing generator shut down.
This helped KDC save on fuel, reduce noise pollution and adhere to considerate contractor regulations.
As an all-in-one surveillance solution, the system contains wireless transmission (4G/3G and Wi-Fi) of video and alarms, a heavy-duty infrared, 360° pan, tilt and 36x zoom camera to allow a remote operator to capture images of any potential intruders, audio speakers to enable a remote challenge to occur.
The Result
Deploying the WCCTV Eco Site Towers around the site's perimeter ensured the site was successfully secured for the works' duration. It also gave the site manager the additional benefit of reviewing working practices and ensure staff followed all safety procedures. 
After the project, WCCTV provided KDC with a professionally edited time lapse video that captured the project in its entirety.
The video drove engagement for KDC, who hosted it on their own website and shared it with their clients and prospects across all social media platforms. 
The Quote
"WCCTV have provided us with a complete service across the project, enabling us to meet a number of our objectives just by using a single system.
Throughout the process, WCCTV has been helpful, reliable, and the service we have received has been first-class."
Site Manager - KDC
Learn More
WCCTV Construction Site Security 
Construction Time Lapse Video Filming and Production
Related content