Case Study Background - Traffic Management 
With the uncertainty surrounding the UK's impending withdrawal from the EU, many councils have drafted contingency plans to prepare for any potential disruption that a 'no-deal Brexit' could create. 
One such scenario that could impact Kent County Council is the disruption caused to HGV traffic if additional customs checks were introduced for Calais, Coquelles and Dunkirk, where freight services disembark.
This may create high-levels of congestion at the Port of Dover and the Channel Tunnel, which handle a peak of approximately 11,500 outbound lorries a day.
As one part of their contingency planning, Kent County Council identified a need to install CCTV cameras along key routes in Kent, including the A249 and A299, to provide them with a situational overview of any traffic congestion.
Problematically, the locations where the cameras were to be installed had no supporting infrastructure for power, mounting or connectivity, so the CCTV solution would have to be entirely self-contained and capable of continuous operation.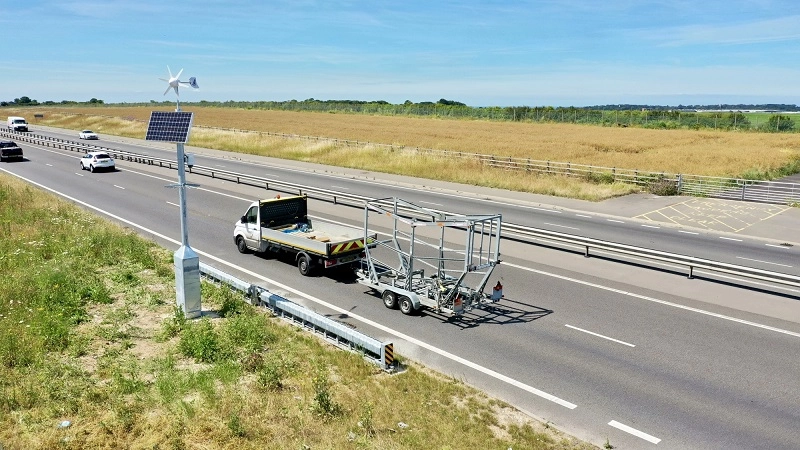 The Solution - WCCTV Solar CCTV
Kent County Council contracted WCCTV to deploy five of the Company's 4G Solar Domes. 
The WCCTV 4G Solar Dome is an autonomously powered rapid deployment CCTV system specifically designed for monitoring and surveillance applications at off-grid and remote locations where power and mounting infrastructure are not available.
Live and recorded footage can be accessed via 4G, 3G, and Wi-Fi connectivity, allowing users to remotely view and download the video via smartphone, tablet, laptop or PC, or a CCTV Control Room.
As there was no infrastructure at all on-site, WCCTV supplied 6m high tilt down columns for mounting the cameras, solar panels and long-life integral batteries built into the columns.
Installation Service
As a full-service provider, WCCTV also led on all installation and civils work associated with getting the solutions up and running. 
WCCTV arranged and oversaw a six-phase installation project, detailed in the presentation pack below.
By drawing on the expertise of WCCTV's fully qualified engineering team, Kent County Council could limit third-party costs whilst ensuring the equipment was deployed in the most effective way.
The Result - 4G Traffic Management
The five solar systems, cameras, columns and solar panels were successfully installed over a five day period. 
They are fully capable of year-round operation, with the battery backup providing up to 15 days of continuous performance even in zero sunlight.
Kent County Council can remotely monitor traffic build-up, utilising the 4G network to view live and recorded footage. 
Related Links
Redeployable CCTV for Local Authorities
Related content