Case Study Background
Ribblehead Viaduct is one of the UK's most iconic railway structures, carrying the Settle to Carlisle rail service across Batty Moss in the Ribble Valley at Ribblehead, in North Yorkshire, England.
The structure, a Grade II listed construct that opened in 1875, is undergoing major renovation works, including upgrades to the stone blockwork and drainage. 
Several areas of blockwork have cracked, allowing water ingress. When temperatures drop, the water freezes and expands, making the damage progressively worse. 
The Challenge - Remote Site Security
During the renovation works, Network Rail required a security system that would protect their temporary compound which contained valuable plant, assets and tools.
The requirement was particularly complex as there was no on-site power, no fixed communication networks and zero mobile network coverage. 
Ribblehead Viaduct is a truly remote location, so the security system specified needed to be entirely autonomous. 
The Solution - Autonomous CCTV with Satellite Comms
Network Rail contracted WCCTV as a specialist provider of rapid deployment CCTV solutions for remote construction sites. 
To meet the unique requirements of the site, WCCTV specified the WCCTV Fuel Cell Solar Tower as the preferred solution. 
WCCTV's Fuel Cell Solar Tower is specifically designed to provide security at construction sites, Critical National Infrastructure facilities or off-grid sites where no mains or generator power are available.
It features the same capabilities as the WCCTV Site Tower, but is powered by a methanol fuel cell cartridge backed by a high-performance solar panel.
The solar panel reduces fuel consumption, and increases run time to provide uninterrupted autonomous power for up to 20 weeks before a refuel is required. 
In addition, to overcome the challenges of video transmission, WCCTV provided the solution with satellite communication capability.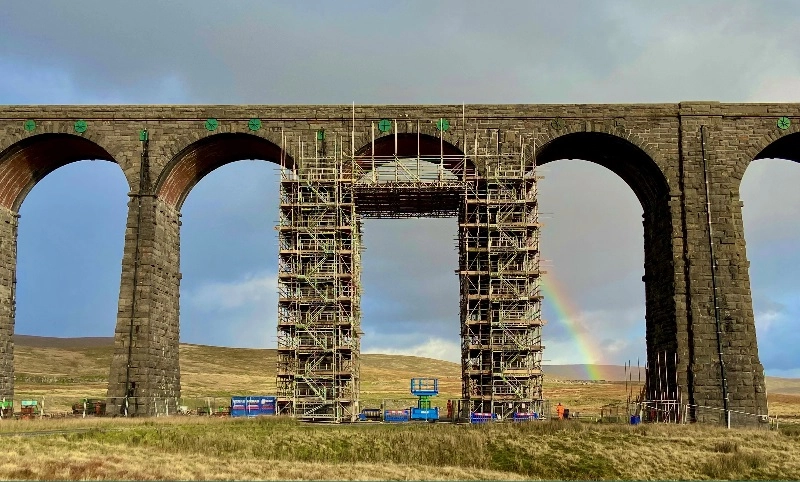 The Result
WCCTV provided Network Rail with a fully managed service for site security, which includes installation of the equipment, alarm monitoring, ongoing maintenance, technical support and reporting. 
This has helped ensure that throughout the renovation works the sites have remained fully protected 24/7. There have been no reported incidents of theft or attempted theft, providing the value of Rapid Deployment CCTV Towers as a theft deterrent.
The performance of the system, in a challenging situation, has been exemplary. The satellite communication networks have been extremely reliable, delivering images on demand to the site managers.
Overall, the system has provided complete peace of mind that all plant and assets are protected. 
Learn More
Ribblehead Viaduct Restoration Project (via Network Rail)
Managed CCTV Services for Rail Projects
WCCTV HD Fuel Cell Solar Tower
Related content