Case Study Background
Network Rail typically completes 100s of infrastructure and engineering upgrade projects over the Christmas period, taking advantage of the quieter than normal travel periods and bank holiday services.
The 'orange army' work tirelessly to complete projects on schedule to ensure that rail users experience the minimum of inconvenience whilst ensuring the network is sustained for years to come.  
Over Christmas 2020, one of Network Rail's key projects involved major track renewals and upgrades at York Station. The team worked around the clock, including Christmas and Boxing Day, to ensure a better service for their customers.
The Challenge - Site Security and Time Lapse Video Requirements
With every project undertaken over the Christmas period, ensuring the works are completed on time is absolutely critical. 
Network Rail can't afford delays and must put in place as many safeguards as possible. As part of these safeguards, sourcing a robust security solution to protect against theft, trespass, vandalism and arson - all of which can lead to costly delays - is crucial. 
Additionally, Network Rail's media and communications team are always keen to promote the efficiency, commitment and quality of the works undertaken by their skilled engineers. 
To this end, they wanted to produce a time lapse video that would capture the significant engineering feats accomplished in such a short space of time. A time lapse video would help them generate significant PR and engage with their local and national rail users.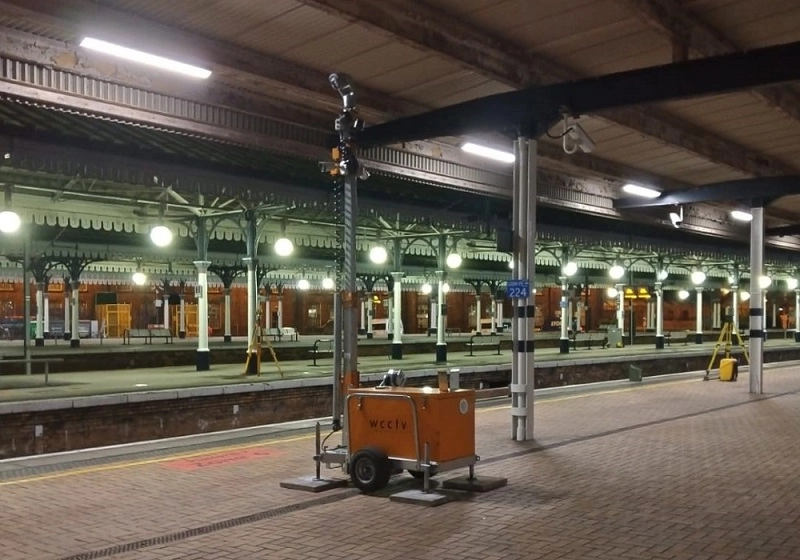 The Solution - WCCTV Network Rail Approved CCTV Towers
As a specialist provider of CCTV and monitoring services to Network Rail, WCCTV was contracted to deploy its PADs Approved Rapid Deployment CCTV Towers to provide security throughout the project. 
The WCCTV Network Rail CCTV Tower is the only rapid deployment Tower approved for track-side deployment due to its non-conductive design.
It features 4G technology to transmit live and recorded video and alarms, an infrared security camera, audio speakers to enable a remote challenge to occur and a removable hard drive (up to 4TB) for local video recording.
As a truly rapid-deployment CCTV system, it can be installed and fully operational in just a matter of minutes - making it ideal for temporary or mobile rail applications.
Additionally, WCCTV's Towers feature secondary video channels that allow for the addition of high-quality time lapse video cameras. 
This allowed Network Rail to capture footage from multiple locations without commissioning two separate contractors to provide video services. 
At the end of the project, WCCTV provided a fully edited video which Network Rail has published to its websites and shared across social media. The video has also been picked up by several rail industry publications and shared across their digital platforms.
The Result
The WCCTV Network Rail CCTV Tower, backed by our remote alarm monitoring services, ensured that the site remained protected from any theft or criminal damage. 
All works were completed on time, allowing normal rail operations to resume following the banks holiday period. 
WCCTV provided Network Rail with time lapse videos from 4 separate cameras, all of which were shared internally and externally to celebrate the momentous achievements of the team involved.
Learn More
Managed CCTV for Rail Projects
WCCTV Network Rail Approved Tower
Related content