Case Study Background
The Anglian Water @one Alliance is a collaborative organisation of consultants and contractors working together to deliver Anglian Water's capital investment program.
As part of this investment programme, Wittering Water Recycling Centre was upgraded with new phosphorous removal equipment which would help to further protect the local environment and improve river water quality by allowing higher phosphorous levels to be removed from wastewater.
Anglian Water has used detailed modelling of the local system to design a robust engineering scheme which will protect river water quality in Wittering and the local area for years to come.
The Challenge – Remote Site Security
Due to the site's remote location and the high-value machinery and engineering assets required for the build scheme, @OneAlliance was keen to install a reliable, proactive security system for the duration of the project.
As with many remote sites of this nature, there was no permanent power supply to support traditional security solutions, so a power-autonomous security solution was essential.
Having been targeted by thieves at previous schemes, @OneAlliance did not want to leave security to chance, so as well as a choosing the right security technology, they also wanted to work with a highly reputable security firm.
The Solution – WCCTV Managed Service CCTV Tower
WCCTV provided @oneAlliance with two rapid deployment CCTV towers; an ECO Site Tower and a Solar Fuel Cell – both of which provided autonomous power to protect the site's perimeter.
These CCTV Towers are 7m tall, bright yellow obvious deterrents that help prevent trespassing and intrusions before they occur.
In addition to the convenience of having autonomous power at a remote location, WCCTV's site towers are also environmentally friendly units powered by methanol, removing any reliance on red diesel and generator power.
From a security perspective, they contain built-in 4G transmission of video and alarms, an HD infrared, 360° PTZ camera, audio speakers to enable a remote challenge, and local recording capability storage of evidential footage.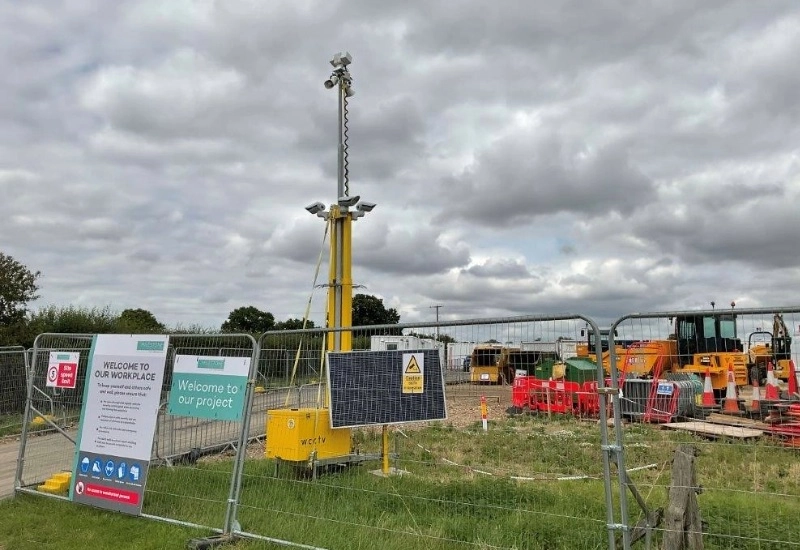 The Result
Throughout the project, the WCCTV's Towers provided robust security, predominantly as a deterrent to opportunist theft.
There were no reported thefts from the site, enabling the project to complete on schedule to avoid costly delays or losses.
A statement from the Site Manager Skanska, working on behalf of @oneAlliance, Mark Allen said:
"We tend to use WCCTV quite a bit. It's been relatively straightforward and we haven't had any break-ins or anything like that."
Learn More
Managed CCTV for Construction Sites
Managed CCTV for Utilities Sites 
Ready to find out how WCCTV's Rapid Deployment CCTV can work for your company? Get in touch today at 0800 470 4630 or email sales@wcctv.com