Case Study Background
Crook Hill Wind Farm is a 37.4MW (megawatt) wind farm on the moors north of Rochdale constructed and managed by Partnerships for Renewables (PFR).
The wind farm consists of 11 Senvion XM104, 3.4MW turbines, and generates over 126GWh (gigawatt hours) over the course of a year, equivalent to the annual electricity usage of over 26,000 average UK homes.
The Challenge - Persistent Fly-Tipping
Due to the site's remote location, it had become the target of persistent fly-tipping issues, predominantly the dumping of high volumes of commercial waste.
The cost of clean up operations, and damage to the otherwise picturesque environment, had become an onerous challenge. 
In addition to the pressures around fly-tipping, the site's owners had also experienced issues around the theft of materials. Given the site's open, remote and unsecured nature, opportunist theft had become a common occurrence. 
As a result, the property owners sought a CCTV solution that they could deploy at a site without fixed power, mounting columns or communication networks.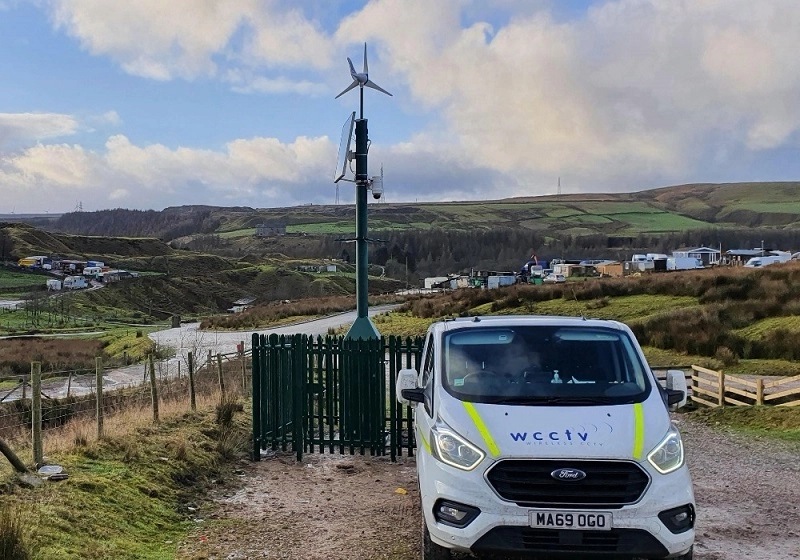 The Solution - Solar Powered Redeployable CCTV
To protect the site from ongoing fly-tipping and theft, Crook Hill Wind Farm contracted WCCTV to install a solar-powered redeployable CCTV camera at the site's entrance. 
Crook Hill's security staff would use the camera to log all vehicles entering and leaving the site utilising Automatic Number Plate Recognition (ANPR) technology.
WCCTV's solar-powered redeployable CCTV solution comprises a WCCTV 4G IR Speed Dome supplied with a 6m high tilt down column for mounting the camera, a solar panel and a long-life integral battery built into the column.
This deployment method provides year-round operation, with the battery capable of providing up to 15 days of continuous performance even in zero sunlight.
The system's autonomy of powering, video transmission and mounting deployment make it an ideal surveillance solution for remote and off-grid locations such as wind farms. 
The Result
Within the first week of deployment, the system captured the illegal dumping of concrete water within the vicinity of the site. 
The footage recorded by the system's ANPR camera was used to secure the successful prosecution of the commercial organisation involved in the dumping. 
As a result of these immediate successes, Crook Hill Wind Farm has extended the service package covering the cameras to 3 years and is considering deploying additional cameras around the site.
WCCTV has since worked with Partnership for Renewables on multiple other locations, delivering similar levels of success.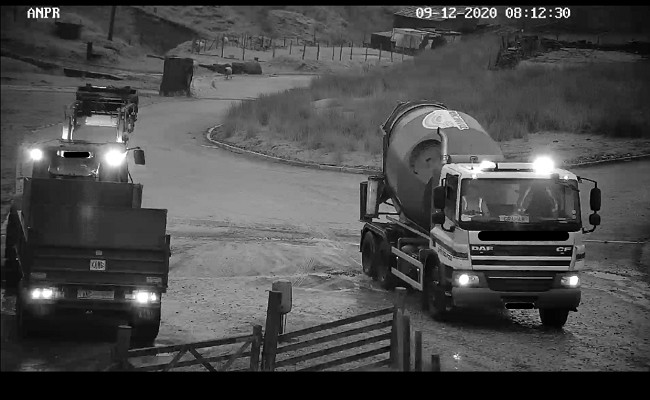 ANPR Image of Illegal Dumping at Crook Hill (plates and other identifying items redacted)
Learn More
Managed CCTV for Utility and CNI Sites