Case Study Background
Skanska, one of the UK's leading infrastructure companies, was commissioned by Cambridgeshire County Council to expand a Park & Ride Centre in Trumpington, Cambridge.
The expansion work was driven by significant growth in housing and employment in the area. Upgrading the existing transport infrastructure was vital to help reduce congestion and improve access into the city.
The previous congestion levels impacted bus journey times, making services unreliable, unattractive and longer than necessary.
The Challenge - Site Security and Time Lapse Video Requirements
Skanska wanted to source a reliable and proactive security system that would help them mitigate against the risk of trespassing, vandalism and theft at the site - all of which could cause inconvenient and expensive delays to the project. 
As this was a temporary project in a remote location, the security system would have to be rapidly deployable, self-powering and designed with short-to-medium term applications in mind. 
Additionally, as the construction work would impact the surrounding areas and transport links, Skanska and the Cambridgeshire County Council were keen to produce a time lapse video of the works to help engage the local community and celebrate the positive impact the construction work would leave behind.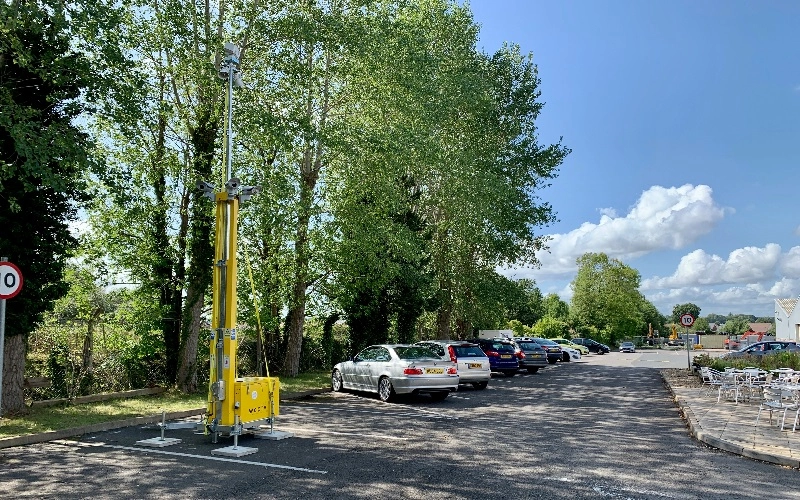 The Solution - WCCTV Managed CCTV for Construction Site Security
WCCTV has established itself as the UK's leading construction site security services supplier, protecting the highest-profile sites for the UK's largest infrastructure companies.
Skanska entrusted the security of the Trumpington site to WCCTV based on the Company's reputation for quality, cost-effectiveness and the comprehensive service package that backs all of WCCTV's cameras.
To secure the site, we deployed two Rapid Deployment CCTV Towers along with a service that included installation, alarm monitoring, ongoing maintenance, support, and performance reporting. 
Standing at 7m tall and painted bright yellow, WCCTV's Towers are an obvious deterrent that helps prevent trespass and intrusions onto sites before they occur.
They contain in-built 4G transmission of video and alarms, an HD infrared, 360° PTZ camera, audio speakers to enable a remote challenge to occur and local recording capability storage of evidential footage.
Additionally, WCCTV's Towers feature secondary video channels that allow for the addition of high-quality time lapse video cameras. 
This allowed Skanska the convenience of recording a time lapse video straight from their security system, with no need to pay for two separate video services. 
The Result
WCCTV's rapid deployment CCTV Towers ensured that the site remained protected at all times throughout the construction. This prevented any potential losses or costly delays and allowed the project to complete on schedule.
The Time Lapse Video has been shared widely across social media and hosted on websites, helping to raise the profile of all involved in the project. The Council also used monthly update videos provided by WCCTV to engage the local community throughout the project.
Learn More
WCCTV Construction Site Security 
Construction Time Lapse Video Filming and Production
Related content