Case Study Background
SMB is a joint venture between Skanska, MWH Global and Balfour Beatty, which Thames Water has appointed to deliver one of the UK's largest and most varied water infrastructure improvement programmes. 
Amongst the JV's portfolio of projects was the redevelopment and upgrade of Beckton STW, Europe's largest sewage treatment works and the fourth largest in the world.
The majority of improvement works were delivered in 2016, and there have been smaller remedial projects periodically delivered since. 
One particular project in 2020 involved building an enhanced storage facility for the site.
The Challenge - Site Security and Time Lapse Video
During the construction of the storage facility, SMB had a dual requirement of securing plant and assets at a site of critical national importance whilst also capturing time lapse video footage of the construction to promote the services of all involved in the project's delivery.
Any delays or damage caused by criminal activity to a project taking place on a public water facility would have a huge impact on all concerned, so a reliable and proactive security solution was critical to the project's success. 
The site had no permanent power supply problematically, so the selected security system would have to be completely independent of mains powering. 
The Solution - WCCTV Managed Construction Site CCTV
Having worked with each of the companies involved in the JV, WCCTV were highlighted as a natural fit to provide security at a site of such critical sensitivity. 
WCCTV provided its Rapid Deployment CCTV Towers, backed by a fully managed service that included installation, alarm monitoring, ongoing maintenance, support and performance reporting. 
The WCCTV Towers stand 7m tall, are painted bright yellow, and act as a highly visible deterrent that helps prevent trespass and intrusions onto sites.
They contain in-built 4G transmission of video and alarms, an HD infrared, 360° PTZ camera, audio speakers to enable a remote challenge to occur and local recording capability storage of evidential footage.
Critically the CCTV Towers provided were powered by methanol fuels cells, backed by solar powering for extended run time, meaning they were completely power-autonomous and environmentally friendly.
Additionally, WCCTV provided the site with two 4K quality time lapse video cameras to capture all the key stages of the construction phase. 
At the end of the project, WCCTV provided a fully edited video that has been shared across multiple social media channels and websites, racking up hundreds of 'likes and thousands of views - helping drive public engagement and interest in the project.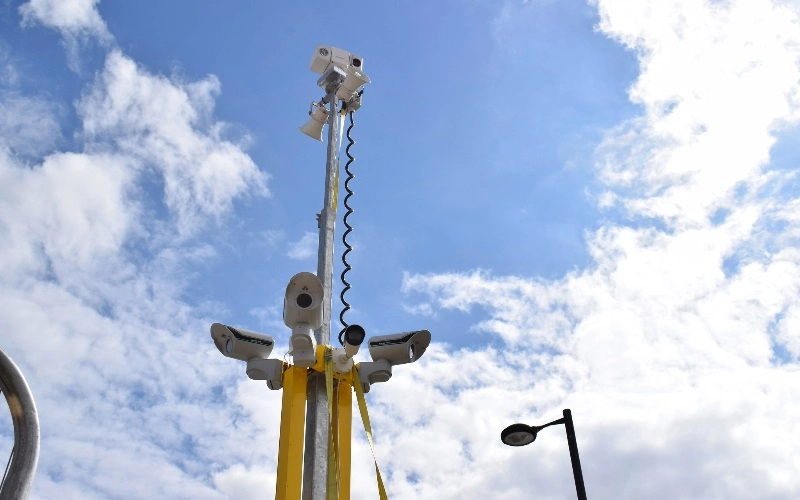 The Result
Throughout the project, all plant, materials and tools were fully secured by the WCCTV Rapid Deployment Tower, there were no reports of losses, and the project was able to run from start to finish without the disruption caused by theft or criminal damage. 
The time lapse video provided by WCCTV has been used by Skanska to drive both media and social engagement with the project, helping enhance their reputation as one of the UK's leading construction firms. 
The full time lapse video is viewable below.