Case Study Background - HS2 Construction Projects
VolkerRail is one of the UK's leading multi-disciplinary railway contractors with a successful track record of delivering projects on the UK's national rail network, working with Network Rail and London Underground and most of the light rail and tram organisations in the UK.
As part of the major HS2 upgrade works, VolkerRail were instructed to realign the existing sidings and associated infrastructure at West Ruislip 'Up-Sidings', allowing them to be moved clear for future construction.
The Challenge - Site Security Without Power Availability
VolkerRail wanted to ensure that the site was protected from theft and vandalism throughout the project but faced several distinct challenges specific to the compound's nature. 
Firstly, there was no onsite power meaning fixed CCTV systems could not be utilised.
Secondly, given the compound's remote and open nature, perimeter protection and motion detection would be essential as any trespass, vandalism, or theft could result in costly delays to the project.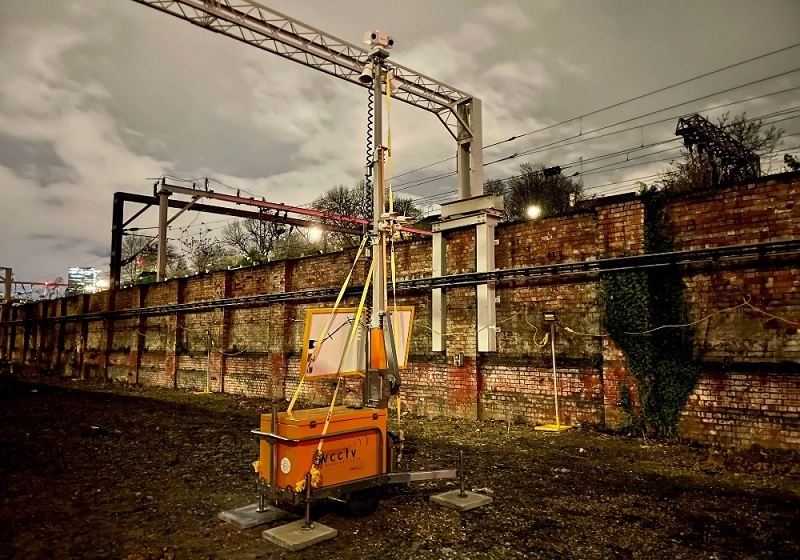 The Solution - Rapid Deployment CCTV Towers
To secure the site, VolkerRail contracted WCCTV to provide a complete managed security solution. 
The service included the supply and installation of a WCCTV HD Eco Site Tower, an all-in-one site security solution powered by a long-run battery offering a minimum of 150-hours of back-up power.
The Site Tower was backed by remote monitoring and alarm receiving services, key-holder response, and ongoing services from WCCTV, including maintenance, redeployment, and UK-based technical support.

Furthermore, VolkerRail benefited from the WCCTV View Mobile App, allowing the project team to access the video from the Tower via their smartphones and tablets whilst away from the site.
The Result
The HD Eco Tower deployment, paired with WCCTV's industry-leading services, ensured that the project was completed without any unauthorised intrusions.
The Tower acted as a clear, visible deterrent, and any activity within the perimeter of the site was quickly detected, escalated and dealt with.
As a result of the project's success, VolkerRail has elected to utilise WCCTV's security services on future projects. 
The Quote
"The WCCTV HD Eco Site Tower enhanced the security of the compound at Denham Station with excellent image quality."
"We were delighted with the professionalism and the service provided, which made everything completely free-of-hassle; we look forward to working with WCCTV again on other projects in the near future."
Site Manager - VolkerRail 
Related Links
WCCTV Construction Site Security 
Related content