Time lapse videos tell the story of your construction projects and bring them to life in a way that captures your target audience's eyes and imagination.
WCCTV has been providing time lapse video filming and production for construction, demolition and highway projects for over 20 years and has a wealth of experience in capturing and editing video footage.
Our camera and video experts highlight everything you need to know about creating a great time lapse video.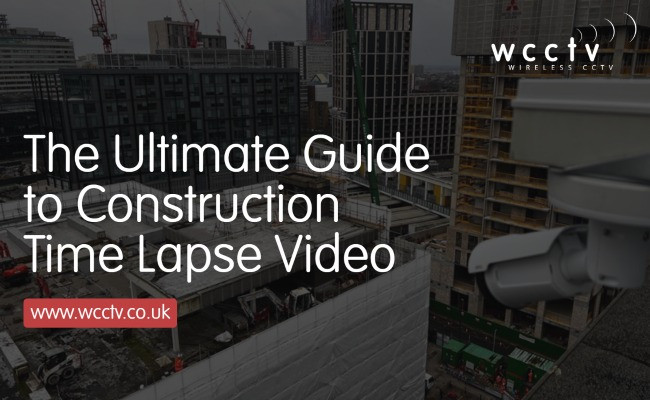 What is Construction Time Lapse Video?
A time lapse video is designed to condense events that occur over a long period of time into a short, snappy video. 
The technique involved in creating a time lapse video relies upon capturing fewer 'frames' per second. For example, a real-time video would capture anything from 24 to 30 frames per second.
Time lapse video records much less frequently, such as one frame per minute or fewer. 
In a construction setting, when these captured images are played back, it shows the build or demolition process in an engaging and dynamic way.
A construction time lapse video can compress several years of construction work into a clip of just a few minutes, allowing companies to showcase their work and viewers to marvel at incredible construction feats. 
Why Should Construction Companies Use Time Lapse Cameras?
WCCTV has previously outlined the many benefits associated with showcasing your construction projects with a time lapse video.
Below, we have highlighted some of the key benefits, and you can take a look at the comprehensive list here.
Sales and Marketing Benefits: Video marketing is one of the most effective ways to raise your business profile. The average consumer watches more than 100 minutes of video online every day. Time lapse videos are short, eye-catching and can help you win more business.

Internal Engagement: Time lapse videos document all the critical milestones of your projects, allowing you to celebrate your teams' success at regular intervals and once the project is complete. 

Stakeholder Engagement: Time lapse videos chart your progress, and your customers and investors are likely to be keen to know how the project is going. Keep them up to date with regular time lapse videos.

Community Engagement: Construction projects can negatively impact the surrounding communities due to increased traffic, noise, dust pollution and potential disruption to travel and transport. However, most construction projects bring lasting value to communities. A time lapse video can help companies highlight their construction's positive impact and the considerate way they work.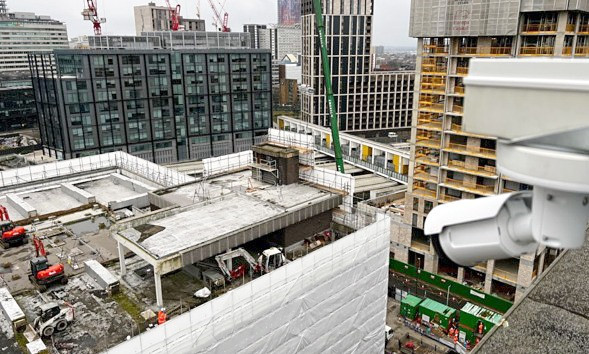 How Do You Get the Best Quality Results for Your Time Lapse Video?
Time lapse videos are wholly unique from other types of video shoots in that you only have one chance to get it right, or the opportunity is lost. 
It makes the whole process extremely delicate, and the planning and preparation phase of the project becomes incredibly important. 
WCCTV has recently published a complete guide on capturing the perfect time lapse video image. Below, we have highlighted the key points, and you can read the complete guide here. 
Define Your Purpose: Defining whether you are capturing time lapse video for marketing purposes or internal review impacts where you position your time lapse cameras. If you want to create a stunning marketing video, it is best to place your camera at a high vantage point to capture the best possible overview of your site.

Mounting Platform: Time lapse cameras are installed outdoors, so they are likely to incur the full range of Briitish weather, including high winds. Ensuring your camera is firmly installed on a secure platform will help minimise the effect of high winds and mitigate against camera shake that can spoil your video.

Dirt, Dust and Distortion: Environmental factors such as rain can distort the camera lens. Similarly, construction sites are dusty, dirty environments, and wind can kick this dust up onto the camera lens, causing obstructions to the view, spoiling your video. It's advisable to regularly check the footage and clean your camera lens as soon as you see an issue. You can mitigate the impact of rain by selecting a camera with a rain shield. 

Sunglare: Depending on the positioning and angle of your camera, it can be susceptible to sunglare, which can ruin hours' worth of footage. Planning and preparation are essential; consider ahead where the sun is positioned during the day, and be aware that it will move depending on the seasons - meaning your cameras may need to be moved to mitigate this issue. 

Image Integrity: Construction projects can run over several months, even years, so ensuring that you choose a system with adequate video storage capacity, connectivity, and consistent powering is essential. WCCTV's time lapse cameras mitigate against this by having limitless cloud storage, internal recording capacity for periods of connectivity loss, and autonomous powering options. 
Essential Features of Time Lapse Video Cameras
Although planning and preparation are essential, it would all be a completely wasted effort if you have selected the wrong equipment for the job. 
Below, we highlight the essential features you should demand from your time lapse camera provider. 
High Definition: To deliver the best impression of your project, you want to capture the works in the best quality video recording. An ideal time lapse camera will boast at least 5-12 megapixel resolution and deliver high-quality video. At WCCTV, we can provide time lapse videos of up to 4K quality.

Weather-Resistant: As noted previously, your time lapse cameras are likely to be installed outdoors, and they will face the full range of British weather. They need to be designed to withstand both dust and water ingress. Be sure to check the IP rating of the cameras.

Onboard Recording and Cloud Backup: Your time lapse cameras will record lots of images, so they must contain adequate onboard storage for the duration of your project. The camera should securely back up all images to the cloud to ensure nothing is lost if the local footage is deleted or damaged.

Reliable Power Supply: Losing even an hour of footage could be the difference between your project being entirely spoiled. An effective time lapse camera needs to mitigate against the risk of footage loss by having an uninterpretable power supply. All WCCTV time lapse cameras are provided with autonomous powering options, including solar and methanol fuel cells. 

Remote Access: Make sure you choose a camera that you can access remotely, as this will allow you to confirm your cameras are still working and that the image hasn't become distorted without having to visit the site. WCCTV's time lapse cameras offer remote 4G connectivity, allowing you to access the cameras via our free mobile app for total convenience.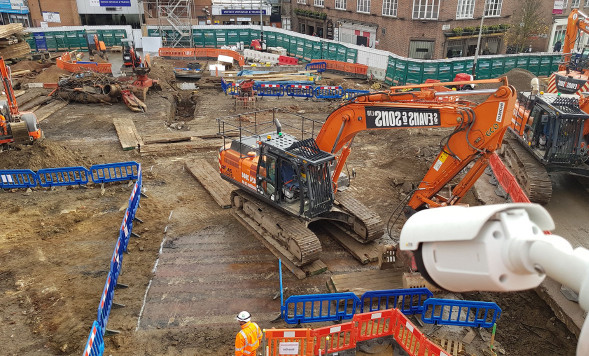 How Long Should a Construction Time Lapse Video Be?
It is suggested that the ideal length of a marketing video is no longer than 5 minutes and that a perfect length is around 2-3 minutes.
Project Length: The frequency with which we capture video images for a two-month construction project is vastly different to that of a two-year project. On a two month project, we would look to capture an image at least every 5 minutes, whereas on a two-year project would be more like every 15 minutes.

Working Hours: We will consider whether the client is working outside of 'normal hours' such as evenings, weekends and over bank holidays. This will impact our recording schedule and the number of images we take in a day.

Type of Project: Over the years, we have learned that we only have one shot at getting time lapse recordings right. This is especially true for demolition projects, the client can't very well put the building back up again if our cameras miss it. When it comes to demolition projects, we typically record much more frequently, as you will be amazed how quickly a building can come down.
WCCTV Time Lapse Video Filming and Production
WCCTV is a specialist provider of fully-managed Time Lapse Video filming and production services for construction and demolition works, including highways and utilities infrastructure projects.
Our team of installation engineers and video editing professionals will create a time lapse video that brings your projects to life in stunning high-definition up to 4K.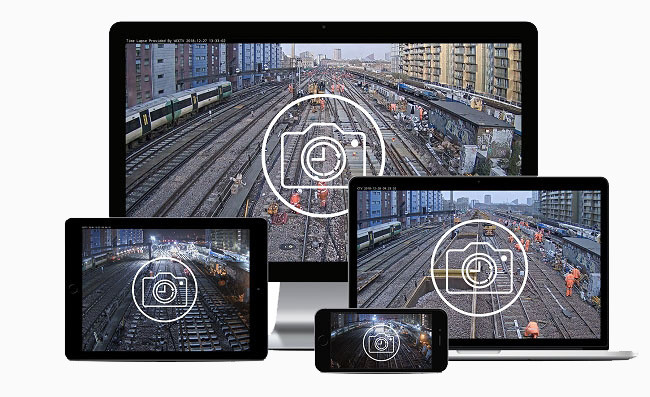 If you're looking for a proven method of generating publicity, engagement and new business, a Time Lapse Video could be for you. 
We can provide time lapse video cameras that do not require additional onsite infrastructure, installation work, power sources or connectivity - meaning we can capture video where others can't.
Get in touch today for a no-obligation quote or site survey. 
Like this article? Please share it with your network.