Case Study Background
Following the severe weather conditions caused by Storm Ciara in early 2020, the rail embankment near Cookspond Viaduct, on the East Grindrod line, showed signs of a landslip. 
With further storms in the area predicted, Network Rail closed the line and contracted leading civil engineering firm BAM Nuttall to undertake emergency repair works.
The line was closed for approximately two months while the remedial works were completed. 
The Challenge - Remote Security and Time Lapse Video Requirements
BAM Nuttall sought a security solution for their compound that would help them mitigate against the risk of trespass, vandalism and theft.
Any losses or damages caused to their compound could impact their ability to deliver the project on time, which would be of huge inconvenience to rail users.
Due to the site's remoteness, the chosen security solution would have to be autonomous in power and video transmission.
In addition, both BAM Nuttall and Network Rail were keen to produce a time lapse video of the works to engage with rail users and highlight the quality and efficiency of the repair works.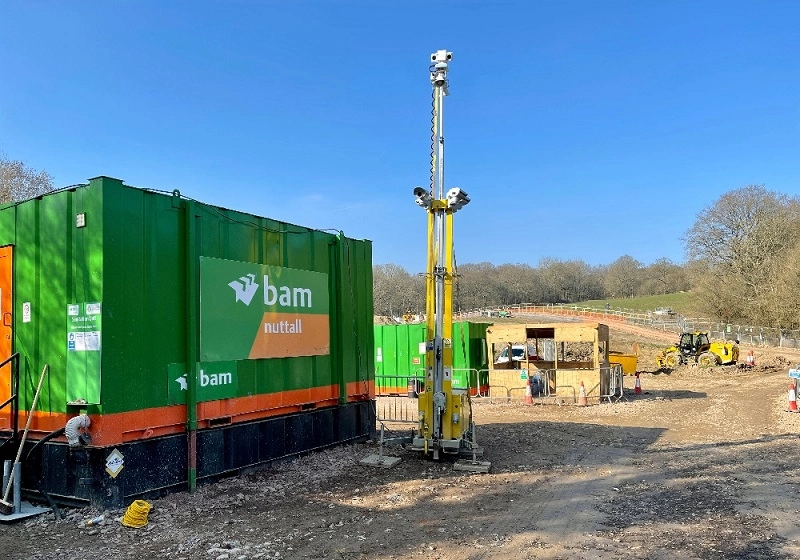 The Solution - WCCTV Managed CCTV for Construction Sites
As a specialist provider of Rapid Deployment CCTV solutions for remote and temporary construction projects, WCCTV was identified as the ideal security partner for the project.
Additionally, WCCTV has provided security for BAM Nutall sites for over 10 years and has a strong reputation for quality, reliability and results. 
To secure the site, WCCTV installed two Rapid Deployment WCCTV Fuel Cell Towers. These completely autonomous all-in-one security systems stand 7m tall and bright yellow, acting as a powerful visual deterrent to opportunist thieves.
They also deliver live and recorded video and alarms via 4G connectivity and is self-powered by renewable energy backed by a methanol fuel cell - making it the ideal security system for off-grid sites.
All WCCTV's rapid deployment CCTV systems are backed by a fully managed service, including equipment installation, video monitoring, audio challenge, and ongoing maintenance and support.
Additional Benefit - Time Lapse Video
In addition to their robust set of security features, WCCTV's Rapid Deployment CCTV Towers allow for the integration of specialised time lapse video cameras, which can be set to capture images at pre-defined intervals. 
At the end of a project, WCCTV's creative team will edit the record images into a professional quality video package complete with text and image overlays, music and captioning. 
At the Cookspond project, WCCTV captured time lapse video from all four Towers and combined them into a concise and engaging overview video which you can view below.
The Result
The presence of WCCTV's Rapid Deployment CCTV Towers, backed by alarm monitoring and response, ensured the compound and works remained protected 24/7. 
This allowed BAM Nuttall to complete the works on schedule despite the challenges presented by the remote location, stormy weather and the coronavirus pandemic. 
The completion of the works allowed Network Rail to reopen the line by the end of March 2020. The time lapse video, which highlights the teams' efficiency, was widely shared across both BAM Nuttall and Network Rail's digital platforms. 
The video was also shared by multiple industry publications (rail and construction), helping drive engagement for all project members.
Learn More
Construction Site Security CCTV
Managed CCTV Services for Rail Projects
WCCTV HD Fuel Cell Solar Tower
Construction Time Lapse Video Filming
The Benefits of Rapid Deployment CCTV for Construction Sites