Case Study Background
Highways England appointed Carnell as the principal contractor on the project to improve the A585 Norcross Roundabout.
The project involved increasing the roundabout size, widening the approach roads, enhancing drainage and installing street lighting and traffic signals. The improvements are intended to improve safety and traffic flow for the 28,000 vehicles and non-motorised users that use it every day.
Throughout the project, Carnell made a conscious and concerted effort to focus on community engagement, taking every possible opportunity to involve, inspire and inform residents whilst leaving a lasting positive legacy behind.
The Challenge - Community Engagement Via Time Lapse Video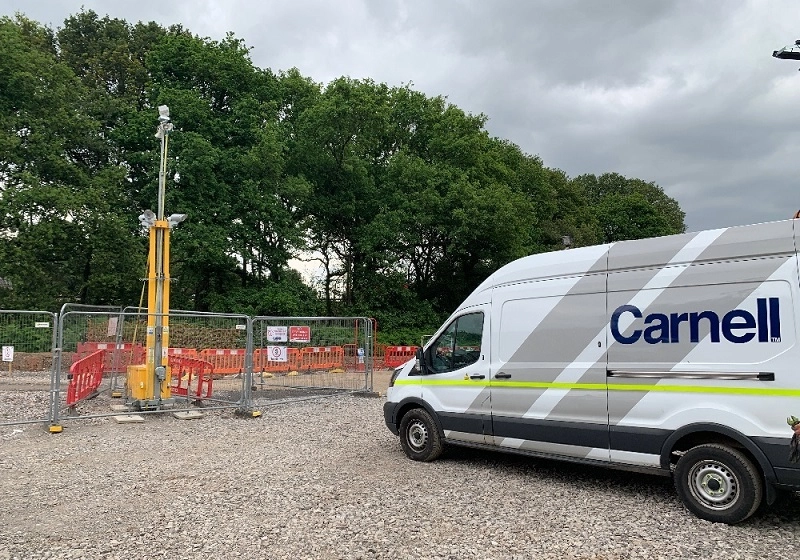 The Solution - WCCTV Managed CCTV Services
To ensure the ongoing security of the site compound, WCCTV provided its WCCTV HD Eco Site Tower, backed by a fully managed service that included installation, alarm monitoring, ongoing maintenance, support and performance reporting. 
As WCCTV rapid deployment CCTV Towers stand 7m tall, painted bright yellow, they act as a highly visible deterrent helping prevent trespass and intrusions onto sites before they occur.
WCCTV's Towers contain in-built 4G transmission of video and alarms, an HD infrared, 360° PTZ camera, audio speakers to enable a remote challenge to occur and local recording of evidential footage.
The Eco Tower contains a long-run battery, allowing onsite generators to be switched at night and over the weekend, saving fuel and reducing noise and pollution.
Uniquely to WCCTV, all our Rapid Deployment CCTV Towers feature secondary video channels allowing for the addition of HD construction time lapse cameras.
Alongside the time lapse footage captured by the CCTV Towers, WCCTV also provided a fully licensed drone filming service to capture the true magnitude of the project in the most engaging and modern video format.
At the end of the project, WCCTV provided a fully edited video that has been shared across multiple social media channels and websites - helping to drive public engagement and interest in the project.
The Result
Throughout the project, the site was unaffected by losses or delays due to theft, criminal damage or accidents thanks to the ongoing, proactive security provided by WCCTV's Managed CCTV systems. 
Additionally, the HD time lapse video drove significant engagement for Carnell and Highways England, helping drive business development and branding opportunities and attracting media attention from several publications.
The video perfectly illustrates the lasting legacy the project has left and the positive impact of Carnell's community engagement initiatives. 
The full time lapse video is available to view below. 
Learn More
WCCTV Construction Time Lapse Video Filming
Managed CCTV for Construction Sites