Case Study Background
Huntworth roundabout, Junction 24 of the M5, underwent major regeneration to help ease congestion during peak times. 
During this time, Somerset County Council were required to monitor traffic flow onto the roundabout. However, all street lighting was removed due to the works - meaning there was no power to run existing CCTV cameras. 
Somerset County Council needed a self-contained, self-powering solution with a high vantage point. 
The Solution
WCCTV were contracted to provide Somerset County Council with a WCCTV HD Fuel Cell Site Tower to monitor the regeneration works and traffic flow remotely.  
The Fuel Cell Site Tower is an all-in-one site security solution that features the same specifications as the WCCTV Site Tower but uniquely features a methanol fuel cell cartridge to provide uninterrupted autonomous power for up to 10 weeks before refuel.
As an all-in-one surveillance solution, the system contains wireless transmission (4G/3G and Wi-Fi) of video and alarms, a heavy-duty infrared, 360° pan, tilt and 36x zoom camera to allow a remote operator to capture images of any potential intruders, audio speakers to enable a remote challenge to occur and local recording capability for the storage of evidential footage.
The WCCTV Fuel Cell Site Tower is a truly rapid-deployment CCTV system, meaning it can be installed and fully-operational in just a matter of minutes, ensuring your sites are protected. 
As the WCCTV Fuel Cell Site Tower is completely autonomous in terms of both powering and video transmission, it can be installed at practically any location - making it an ideal solution for securing remote or off-grid sites.
The Result
Somerset County Council deployed the WCCTV HD Fuel Cell Site Tower for an initial rental period of 28 weeks to monitor traffic flow and congestion on the Huntworth Roundabout.
With remote access to live and recorded footage, the Council could dial into the camera from any computer, smartphone or tablet using WCCTV's View Software.
If congestion began to build up, the council could utilise resources to diffuse the high volume traffic to ensure all road users faced little disruption to journeys during the regeneration period.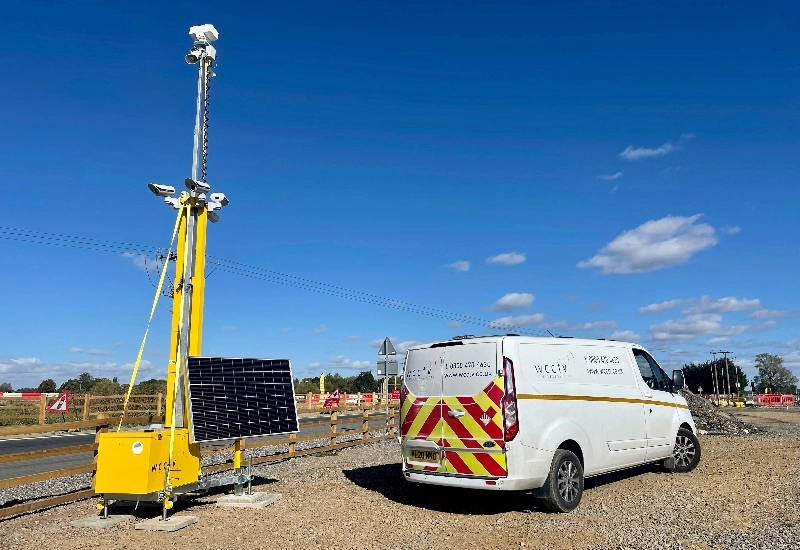 The Quote 
"An initial search showed very few companies were able to provide a package that suited our requirements of a high vantage point, self-contained power and rental rather than purchase. 
The WCCTV Fuel Cell Tower has been perfect for our needs on this project, everything arrived on time as planned, and WCCTV staff have been replenishing the fuel cell (every 6-8 weeks) self-reports that the fuel level is getting low.
The inbuilt security to detect tampering, with remote 24/7 coverage of this element, has given us peace of mind and reduced our insurance cost estimate."
Somerset County Council
Related Links
Traffic and Transport Solutions