With the rising costs of building materials, construction sites are a constant target for opportunist thieves. Ensuring your sites have the right security measures in place
 has never been more important

.   

Construction sites are filled with valuable items, such as metal, power tools, electronics, timber, and heavy machinery, making security an ongoing challenge.

In fact, the current scale of construction site crime equates to over 6000 break-ins per year, resulting in up to £800m of losses.

These losses are not only expensive in terms of lost materials and equipment, but they also result in costly project delays, loss of productivity, impact on insurance premiums and time lost spent replacing the stolen items.

As the cost of building materials continues to soar due to the impact of Brexit and Covid-19, crime rates likewise continue to rise. The Construction Equipment Association recently reported a 50% increase in construction site crime year on year between June 2020 and June 2021.

WCCTV, the UK's leading provider of managed construction site CCTV, details below how rapid deployment CCTV systems backed by proactive alarm monitoring services help prevent your sites from becoming another crime statistic.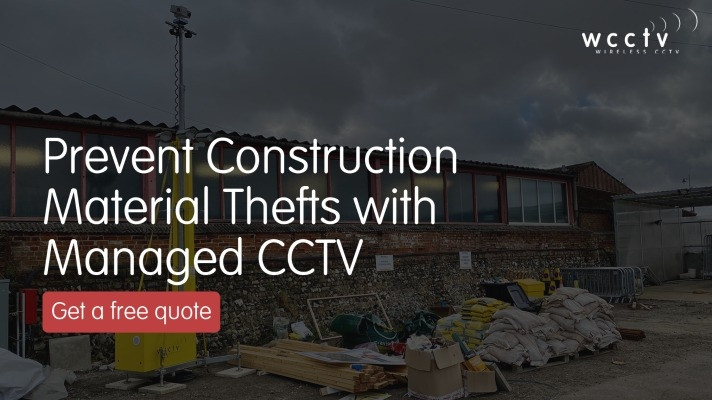 Why Construction Sites are Targeted 
Aside from the fact that construction sites contain many high-value materials, criminals have come to view construction sites as easy targets. That's because, for the most part, they are.
Construction sites are poorly lit, unmanned for several hours of the day, and most only have basic security measures in place - if any at all.
This presents thieves with a low-risk, high-reward opportunity to cash in on easy to resell items such as timber, copper, steel, tools and heavy equipment. 
Copper, in particular, is the most targeted and stolen metal in the UK, and the vast majority of these thefts are from construction sites.
Timber is equally profitable for thieves, particularly as this type of material is generally left unsecured overnight. Instances of timber theft continue to surge as the price of the material continues to soar.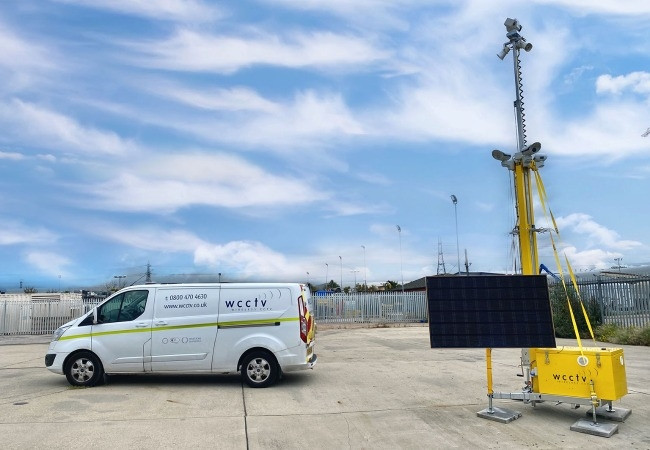 How to Protect a Construction Site from Theft
At WCCTV, we firmly believe that our rapid deployment CCTV systems are the most effective solution to construction site security, but you can take many other simple steps to help prevent theft. 
Utilise fencing: Making it difficult to access your site out of hours will immediately boost security. Adding a fence covering will also prevent opportunist thieves from seeing what's on your sites, reducing the likelihood of an impulse/opportunist burglary.

Lock away or hide any valuables: Don't make a thief's job easy. Ensure you hide or lock away valuable materials and tools at the end of every shift. 

Keep your site well lit: Criminals always prefer to work under cover of darkness, so Installing lighting is a relatively cost-effective way of deterring opportunist thieves. 

Track your materials: Keep a running inventory of all deliveries in and out so you know exactly what equipment and materials are on-site at all times. Ensure there is a paper trail for every item from the point of order through delivery and implementation.

Install temporary CCTV cameras: CCTV cameras are one of, if not the most effective ways of protecting a construction site from theft. Displaying signage across your site indicating the presence of CCTV cameras will also have a huge boost on security.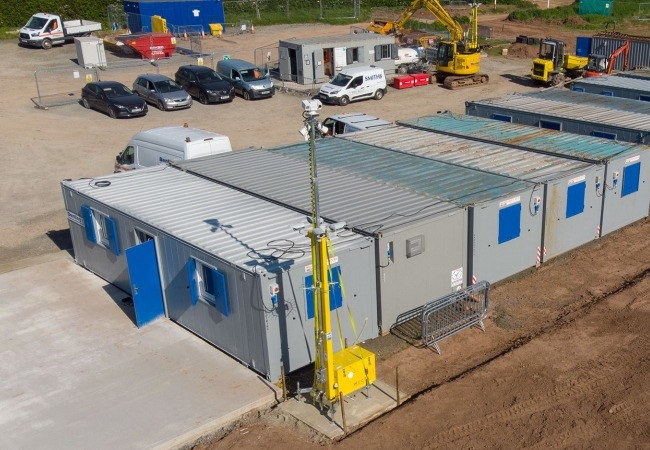 How Rapid Deployment CCTV Prevents Construction Site Theft
WCCTV's Rapid Deployment CCTV Towers stand at 7m tall, are painted illuminous yellow, and present a clear visible deterrent to thieves. 
When our CCTV Towers are backed by remote alarm monitoring services from our NSI gold accredited monitoring partners, they become a virtual security guard - tracking criminals, gathering evidence, and initiating a priority police response. 
Our CCTV Towers have multiple powering options, allowing them to be deployed at even the most remote locations, and transmit live and record video via 4G mobile technology, making them completely autonomous.
The Tower's inbuilt IR detectors automatically spot unwanted intruders on your sites, which triggers our monitoring partners' escalation process.
This helps to prevent, catch or record criminal activity. See for yourself just how effective our systems are: 
WCCTV: Managed CCTV Cameras for Construction Site Security 
WCCTV is the UK's leading provider of fully managed construction site security solutions. 
We supply our own manufactured CCTV products backed by a comprehensive service covering site survey, installation, maintenance, alarm monitoring, response and monthly reporting.
Our rapid-deployment CCTV systems provide construction sites with multi-application benefits, including theft prevention, Time Lapse Video recording and remote project management.
Whether you have on-site power or not, we can provide our CCTV systems, and they all contain 4G transmission. So they are completely autonomous solutions.
Ready to find out how WCCTV's Rapid Deployment CCTV can assist with site security? Get in touch today on 0800 470 4630 or email sales@wcctv.com
Like this article? Please share it with your network.