Project Background
The Anglian Water @one Alliance is a collaborative organisation of consultants and contractors working together to deliver Anglian Water's capital investment programme.
One of the partnership's key projects was the construction of Europe's largest membrane filtration plant at Heigham Water Treatment Works, a £36m scheme that has ensured the resilience of water supply for decades to come while simultaneously protecting the local environment around the River Wensum, a designated Site of Special Scientific Interest and Special Area of Conservation.
‍The state-of-the-art facility is the largest submerged ultrafiltration plant in the UK and boasts the largest surface area of reinforced submerged membranes in Europe. 
The project took just over two years to complete, entering service at the end of 2019, ensuring the treatment of 57 million litres of water per day (668 litres per second) to supply a quarter of a million residents and businesses and around Norwich.
The Challenge - Ongoing Site Security and Time Lapse Video Filming
Throughout the lengthy construction phase, Anglian Water @one Alliance required a robust site security system to protect plant, assets and materials at the remote location. 
As a supplementary requirement, @one Alliance wanted to capture a time lapse video of the landmark construction. 
WCCTV are the core provider of permanent site security services at all of Anglian Water's Waste Water Treatment sites, so the collaboration on a remote security project of this magnitude was a natural fit for both parties.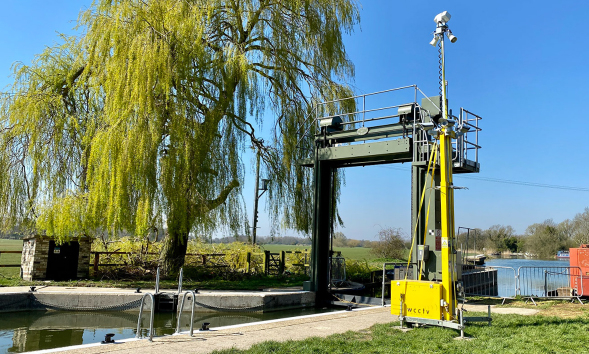 The Solution - Rapid Deployment CCTV Towers
To secure the site for @one Alliance, WCCTV provided a Rapid Deployment CCTV Tower, backed by a fully managed service that included installation, alarm monitoring, ongoing maintenance, support and performance reporting. 
WCCTV's Towers are 7m tall, bright yellow, highly visible deterrents that help prevent trespass and intrusions onto sites before they occur.
They contain in-built 4G transmission of video and alarms, an HD infrared, 360° PTZ camera, audio speakers to enable a remote challenge to occur and local recording capability storage of evidential footage.
The Tower WCCTV provided was powered by methanol fuels cells, meaning the system was completely power-autonomous, ideal for a remote location like Heigham, and an environmentally friendly solution.
Additionally, WCCTV provided the site with two high definition time lapse video cameras to capture all the key stages of the construction phase. 
At the end of the project, WCCTV provided a fully edited video that has been shared across multiple social media channels and websites - helping to drive public engagement and interest in the project.
The Result
Throughout the project's two-year duration, the site was unaffected by losses or delays due to theft or criminal damage thanks to the ongoing, proactive security provided by WCCTV's Managed CCTV systems. 
Additionally, the HD time lapse video drove significant engagement for all partners of the @one Alliance, helping drive business development and branding opportunities and attracting media attention from several national publications, including the BBC. 
The full time lapse video is available to view below. 
Learn More
WCCTV Construction Time Lapse Video Filming
Managed CCTV for Construction Sites
Managed CCTV for Utilities Sites 
The Benefits of Time Lapse Video
The Benefits of Rapid Deployment CCTV for Construction Sites
Ready to find out how WCCTV's Rapid Deployment CCTV and Time Lapse Video can
 

work for your company? Get in touch today on 0800 470 4630 or email sales@wcctv.com