Exmouth Town Council has deployed WCCTV Redeployable CCTV Cameras to help tackle anti-social driving and behaviour at the town's seafront.
The decision to install WCCTV's cameras follows an extensive proof-of-concept trial period that began in August 2020, which aimed to identify a suitable replacement for the town's ageing fixed CCTV network. 
The cameras Exmouth Town Council has elected to install are WCCTV's 4G IR Speed Domes + ANPR, a combined mobile CCTV solution that delivers video surveillance and automatic number plate recognition functionality. 
The Council can quickly move the cameras to tackle crime hotspots, or if surveillance priorities change, ensuring they have an adaptable and proactive approach to their future monitoring strategy.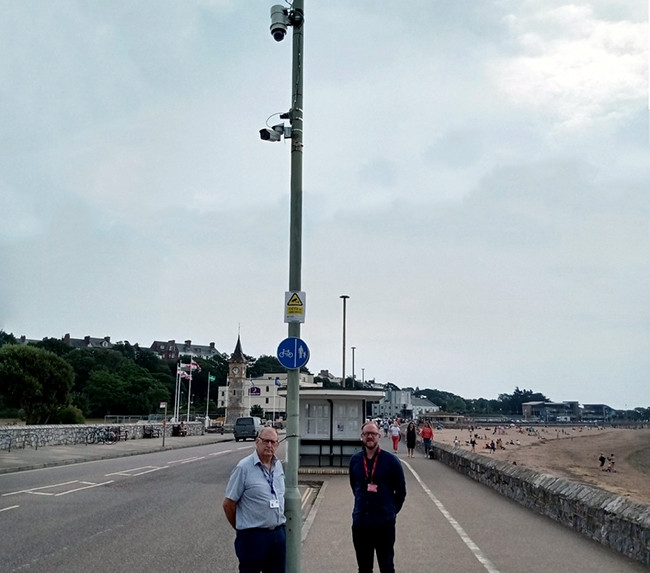 Exmouth Councillor Fred Caygill and WCCTV's Ross Johnstone standing in front of camera installation on Exmouth Seafront. Picture: Lisa Bowman
Speaking on the deployment of the cameras, Sergeant Richard Stonecliffe, neighbourhood team leader for Exmouth and Ottery St Mary, said: "There are effectively three cameras within the device, one of which has a night vision capability and one of which has ANPR."
WCCTV's Ross Johnstone added, "We're delighted that Exmouth Town Council has selected our redeployable cameras after an extensive and hugely positive trial deployment. Our market-leading equipment, backed by our world-class support services, delivers results time after time."
Exmouth Councillor Fred Caygill, who led the trial on behalf of the Council, is scheduled to share his experiences and knowledge on WCCTV's upcoming Crime Prevention Webinar taking place on May 12th. For more information, click the link below. 
WCCTV Redeployable CCTV
WCCTV has been supplying rapid deployment CCTV systems around the globe since 2001, and in our experience, the key applications for these systems include:
Ready to learn more about how WCCTV's Redeployable CCTV cameras can assist with your applications? Contact our team today on 0800 470 4630 or email sales@wcctv.com