Project Background
BAM Nuttall is one of the UK and Europe's largest construction and civil engineering companies, delivering infrastructure across various sectors, including rail, highways, air, marine, tunnelling, energy and water.
On a recent project, the Company constructed a flood defence system in Clifton Ings as part of a £21m flood alleviation scheme aimed at better-protecting communities in York.
The scheme will provide improved protection for homes, help reduce the risk of flood water on the roads and protect local businesses - making York more resilient to the impacts of climate change.
The Challenge
With the increasing cost of construction machinery, tools, IT equipment and fuel stored on-site, a security solution would be required – especially given the remote and secluded nature of the site.
In place of a guard, BAM sought a proactive CCTV system to detect and deter any form of criminal activity.
Additionally, as the site had no fixed power or internet connectivity, the CCTV system chosen would need to operate autonomously with minimal maintenance requirements.
The Solution
WCCTV provided BAM with 2 HD ECO Towers and 1 HD Solar Fuel Cell Tower backed by a comprehensive service plan which included equipment installation, video monitoring services, ongoing maintenance, support and performance reporting.
Following a site survey, the highly visible 7m tall towers were placed at optimum locations to provide complete coverage of the whole site and ensure all access points were protected.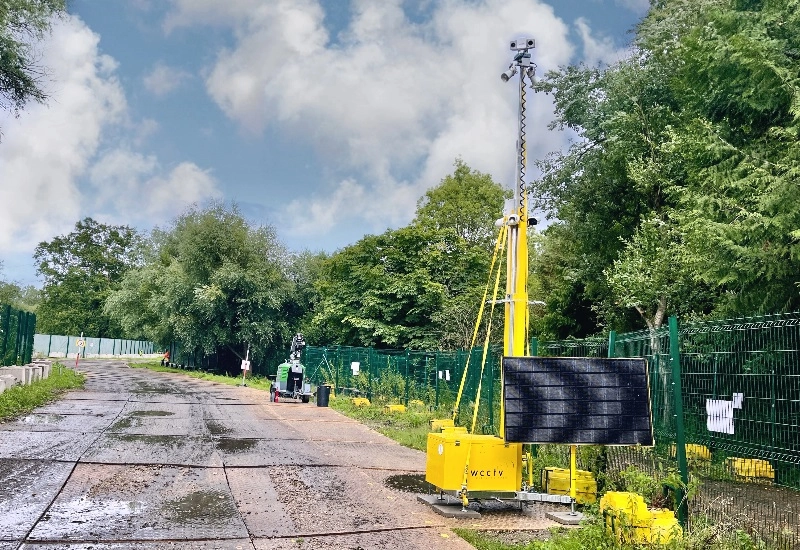 Aside from their visual presence, WCCTV Towers also feature live audio challenge capability, which is triggered in the event of an intrusion. In 9 our of 10 cases, the activation of this audio warning prompts an intruder to leave site immediately.
Additionally, as the site had no internet connectivity and parts of the site had no power availability, the CCTV system chosen would need to operate autonomously with minimal maintenance requirements.
The eco-friendliness of the units was a particular positive given that this particular site was appointed by the Environment Agency.
The Result
Throughout the project, the compound was shielded against theft and intrusion. The Towers effectively performed their roles, deterring all criminal activity from the start.
This allowed BAM Nuttall to complete the work on schedule despite the challenges of the remote location and stormy weather.
A Statement from Mike Ridsall, General Foreman for Clifton Ings Flood Alleviation at BAM Nuttall:
"They're a good thing to have (WCCTV Tower), it is a deterrent, and we're pretty comfortable using them as our site security, and I think they are a good thing.
We've had no break-ins or anything like that, and I think they see the presence of the security tower and leave."
Learn More
WCCTV Construction Site Security 
Ready to find out how WCCTV's managed CCTV services can assist with site security? Get in touch today on 0800 470 4630 or email sales@wcctv.com