Case Study Background
Network Rail and Morgan Sindall collaborated to transform travel to and from Kings Cross Station via a multi-million-pound track renewal, signalling and overhead line equipment replacement project.
After months of planning and preparation, a six-day closure of the station was agreed with the train operators, from 25th December until 30th December, after which there would be a reduced service from 31st December until 3rd January 2021.
This would be the first time in 40 years that Network Rail has removed all four tracks leading into King's Cross station at the same time.
The Challenge - Worker Safety and Time Lapse Video Requirements
In March 2020, the Coronavirus pandemic hit the UK. Network Rail had to replan the project to ensure adherence to restrictions and safe working practices. This included adjusting staff numbers to accommodate social distancing rules, amending processes and procedures, and introducing a rigorous on-site COVID testing regime.
To ensure that all of the safety measures implemented were fully adhered to, Network Rail and Morgan Sindall required a project overview tool that they could use to monitor the site. The system would be used to remotely view updates of the works, review health and safety procedures and evaluate any accidents or safety breaches.
Additionally, both companies wanted to produce a time lapse video that would capture the detail and significant engineering feat accomplished throughout the remodelling process. These time lapse videos would assist with generating PR and engagement from local and national rail users.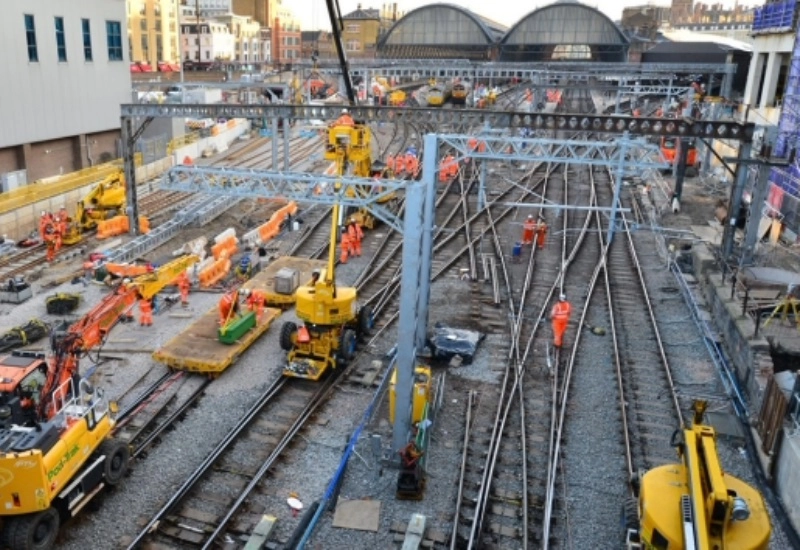 The Solution - WCCTV 4G Redeployable Cameras
As a specialist provider of Redeployable CCTV systems, WCCTV was contracted to install three of its 4G IR Speed Domes to provide project overview footage.
WCCTV's redeployable cameras combine 4G technology, a PTZ infrared camera and up to 4TB of local video storage capability into a single, portable unit that is both easy to install and easy to maintain.
The cameras allowed Network Rail and Morgan Sindall's staff to remotely access live and recorded footage from the cameras via their mobile phones, tablets and laptops from any location.
By harnessing the 4G access, Network Rail was able to reduce the number of site visits, analyse and improve safety procedures and check on the live progress of the project delivery.
Additional Benefit - Time Lapse Video
All of WCCTV's 4G IR Speed Domes feature secondary video channels that allow for the addition of secondary cameras. 
WCCTV fitted each of the redeployable domes with two 4K definition time lapse cameras.
This allowed Network Rail and Morgan Sindall to capture high-quality time lapse video footage from multiple locations without commissioning two separate contractors to provide video services.
The Result
The WCCTV 4G IR Speed Domes ensured that safety protocols were adhered to throughout the project. The ability to remotely access the live and recorded footage to check the progression of the works was an invaluable site management tool.
It enabled the site team to view live video during key progression works (over Christmas and major blockades) to ensure work was completed on time and deal with any incidents effectively.
At the end of the project, WCCTV provided a fully edited video which Network Rail and Morgan Sindall then published to their websites and shared across social media, generating engagement with over 5,000 views, increasing their brand recognition, promoting their teams' accomplishments, and building up social engagement through comments, likes and shares.
The video has also been picked up by several rail industry publications and shared across their digital platforms.
Learn More
Managed CCTV for Rail Projects
WCCTV Network Rail Approved Tower
Construction Time Lapse Video Filming and Production
Ready to find out how WCCTV's Rapid Deployment CCTV can assist with site security? Get in touch today on 0800 470 4630 or email sales@wcctv.com
Related content