Case Study Background
Alexandra Park is a Victorian park built by the people of Oldham during the Cotton Famine of 1861-1865. It is a Grade II listed site of National Interest. 
The park features extensive play areas for families and recreational activities such as tennis courts, boating lakes, a fishing club and a bowling green.
The park welcomes thousands of visitors every year and is constantly commended on the high standard of cleanliness and maintenance - for which it recently received a Green Flag award.
The Challenge - Depot Security 
To maintain the park to its exceptionally high standard requires a mammoth effort from council workers.
The council has a Depot located on the park's boundary where a vast array of tools and equipment needed for park maintenance are stored. 
The Depot is home to 170 staff who are directly responsible for ground maintenance, environmental enforcement, and the safety and security of visitors to the park.
The depot is located in a highly residential area and had been the target of several expensive machinery thefts.
As the depot is due to decommission in the coming years and set to be replaced by a state of the art Eco Centre, the council sought a temporary security solution to help protect the depot in the interim.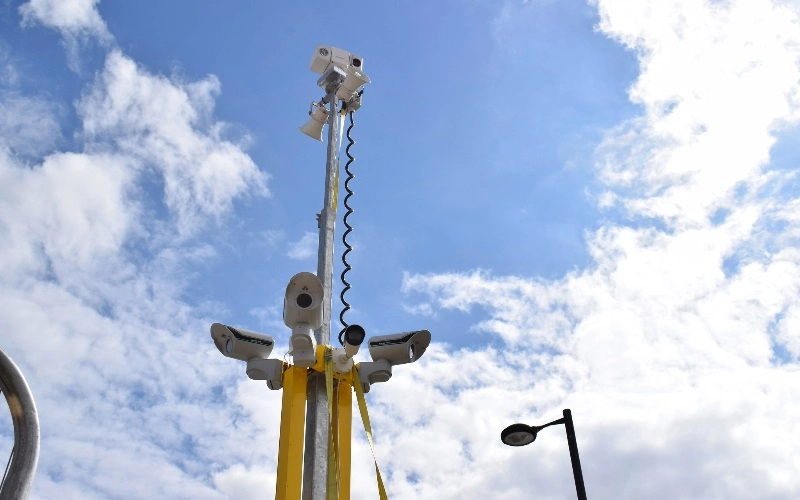 The Solution - Rapid Deployment CCTV Towers
 WCCTV has previously provided Oldham Council with redeployable CCTV cameras to assist with town centre management applications and reduce fly-tipping. When they sought a partner to provide temporary security to the Alexandra Park Depot, they saw WCCTV as a natural fit. 
WCCTV provided the council with a Rapid Deployment CCTV Tower on a rental basis to secure the depot. The CCTV Tower is backed by WCCTV's fully managed security service, including installation, maintenance, alarm monitoring and response, and ongoing technical support from WCCTV's UK-based customer experience professionals. 
WCCTV's Towers are 7m tall, bright yellow, obvious deterrents that help prevent trespass and intrusions onto sites before they occur.
They contain in-built 4G transmission of video and alarms, an HD infrared, 360° PTZ camera, audio speakers to enable a remote challenge to occur and local recording capability storage of evidential footage.
The Tower WCCTV provided was powered by methanol fuels cells, backed by solar powering for extended run time, meaning the system was completely power-autonomous and environmentally friendly.
The Result
Since deploying the CCTV Tower to the Depot, the Council have indicated that there have been no further thefts from the site. 
The Tower has provided a complete out-of-hours security solution, with proactive monitoring of any alarms from the site and acting as an obvious deterrent to opportunist thieves. 
The council have opted to keep the CCTV Tower in place permanently until construction work on the new Eco-Centre is completed. 
Related Links
WCCTV Managed Site Security Services  
Related content