WCCTV, the UK's leading supplier of managed CCTV Towers for remote and construction site security, presents the Ultimate Site Security and Safety Toolkit - a range of free to download guides. 
The security experts at WCCTV have over 20 years of experience protecting remote sites on a temporary or semi-permanent basis. Our clients include the biggest names in the construction, critical infrastructure and transportation sectors.
Between installing our rapid deployment CCTV systems, we have channelled this experience into creating a range of best practice guides that help companies boost security and worker safety across their sites.

We've compiled the best of these guides below. They are completely free, so please feel free to download and share.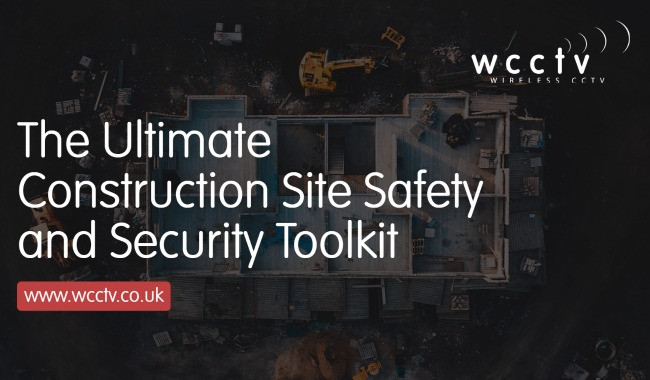 Security Resources:
1. The Complete Guide to Construction Site Security
Construction site crime remains a significant risk, with an estimated 6000 break-ins occurring every year, resulting in up to £800m of costs associated with equipment loss and project delays.
As the UK's leading supplier of rapid deployment CCTV, we firmly believe that a managed CCTV system is the most effective way to prevent theft, trespass and vandalism. 
However, our solutions work most effectively when implemented as part of a blended approach to site security.
WCCTV's Complete Guide to Construction Site Security is a comprehensive step-by-step process of securing construction job sites available as a free eBook.
Click the link below to get your free copy. 
2. The Ultimate Site Security Checklist 
Thieves highly covet the valuable materials and tools on your construction sites. They are easy to resell and ever-increasing in value - making your sites a prime target for organised and opportunist theft. 
In response to the rising costs of construction materials, WCCTV's security created the Ultimate Site Security Checklist, a free download that helps close the gaps in your security processes.
The checklist is embedded for viewing below and is available to download as a PDF to print and/or share among your team.
3. Security Risk Assessment Template 
Performing a security risk assessment is an essential part of planning any physical security response.
WCCTV has created a free to download template with everything you need to get started for anyone unfamiliar with the processes involved in completing a risk assessment.
The template is completely editable and can be adapted as required for each site you work on.
A risk assessment should consider the security threats and hazards that could impact your construction site, their likelihood, and the impact on your project should they occur.
There is a column to list any countermeasures you intend to put in place to help mitigate the likelihood or impact of the threat. 
We advise that your risk assessment be reviewed regularly as any changes to your site can result in new vulnerabilities that your original plan did not consider.
Safety Resources:
1. How Safe is Your Construction Site [INFOGRAPHIC] 
Construction sites remain one of the most high risk working environments, with figures from the HSE highlighting the need for a continued focus on creating a safer working environment.
Construction workers account for roughly 5% of the UK's total workforce, but 31% of the UK's fatal injuries occur on construction sites - a highly disproportionate number. 
WCCTV's recently published infographic highlights the most common hazards on construction sites and outlines practical steps that companies can take to reduce their likelihood and severity.

2. How to Control Construction Site Health and Safety Risks
Construction business owners are directly responsible for protecting their workers and sub-contractors, so investing in health and safety to ensure a safe working environment is crucial.
Better Health and Safety starts with identifying and mitigating risks, promoting a safety culture, and communicating your site rules clearly and consistently.
WCCTV outlines below some critical ways construction companies can improve onsite safety. 
It also includes information on how to perform a health and safety risk assessment with editable templates.
3. Top Tips for Construction Site Safety
WCCTV works on construction sites site every day of the year, installing, servicing and managing CCTV equipment designed to boost site security. 
To ensure the safety of our Engineering team, we place the highest level of importance on Health and Safety training, best practice working methodologies and focusing on clear communication between ourselves and our clients. 
Our Top Tips for Construction Site Safety come from our own experience working in one of the most hazardous environments. Still, other companies can apply the lessons we outline to any construction environment. 
Click the link below to read the full article.
WCCTV - Managed CCTV For Construction Sites
WCCTV is the UK's leading provider of fully managed CCTV cameras for site security and safety. 
We pride ourselves on supplying our own manufactured CCTV products backed by a comprehensive service covering site survey, installation, maintenance, alarm monitoring, response and monthly reporting.
Our rapid-deployment CCTV systems provide multi-application benefits, including theft prevention, Time Lapse Video recording and remote project management to improve onsite safety.
To get a quote or learn more about how our systems can help boost safety and security at your sites, please contact us on 0800 470 4630 or fill out a quick contact form. 
Like this article? Please share it with your network.