To avoid unwanted surprises this Christmas on your construction sites, we have created a handy infographic outlining the top five tips for better security this Christmas.
Criminal activity such as theft, vandalism and trespassing on construction sites often increase over Christmas, as criminals don't tend to wait for gifts; they seize every opportunity to help themselves.
Below, WCCTV explores the key ways you can protect your site assets over the Christmas period and beyond by increasing Construction Site Security.
How do you secure a Construction Site at Christmas?
Most construction sites will temporarily close down for between 2-3 weeks over Christmas, this gives criminals and thieves the chance to plan and execute theft from your site. But with a few simple security improvements, you can stop them in their tracks and make them think twice about stealing.
Some of the most common tips for securing a construction site a Christmas are:
Security lighting to activate at sundown

Large perimeter fencing, add large sheets to the fencing to restrict the view inside the site 

Regular security patrols

CCTV & surveillance cameras

Alarms

Clear and visible signage posted around the site

Lock away valuables

Park heavy machinery in well-lit areas or in view of surveillance cameras
What you should consider when shutting down your Construction Site for Christmas
You should be thinking about not only protecting your assets like tools, machinery, plant hire and diesel but also the weather conditions, scaffolding, fencing, trenches and excavations as these could be at risk of collapsing which can disrupt the return of workers, putting the project behind schedule and have an impact on finances.
Where possible you should remove any machinery and tools out of sight to reduce the chances of these being stolen, we recommend having a safe and secure unit, like a shipping container for instance, to store these in which is padlocked. You can strategically place lights or a portable CCTV tower to increase the safety of the storage unit.
What is the best CCTV Tower to have on a construction site for Christmas?
CCTV and surveillance cameras are one of the best options for securing your site over the Christmas period, especially when you link them with a remote monitoring service as this will give you complete peace of mind knowing that if someone does try to steal from your site, a trained professional is alerted and responds within seconds of receiving the intruder notification.
Portable CCTV Towers have lots of benefits of being on a construction site, they can be easily moved and redeployed whenever your needs change, for instance at Christmas when you need to secure one area where expensive machinery and plant hire is being parked over this period.
Depending on the type of tower you have on-site, these can usually run and be active for the full Christmas period. Some towers use methanol fuel to run whereas some can be backed using solar power.
Everyone wants a stress-free Christmas so ensure you have boosted your site security by letting our professional team deter criminals with CCTV and remote monitoring.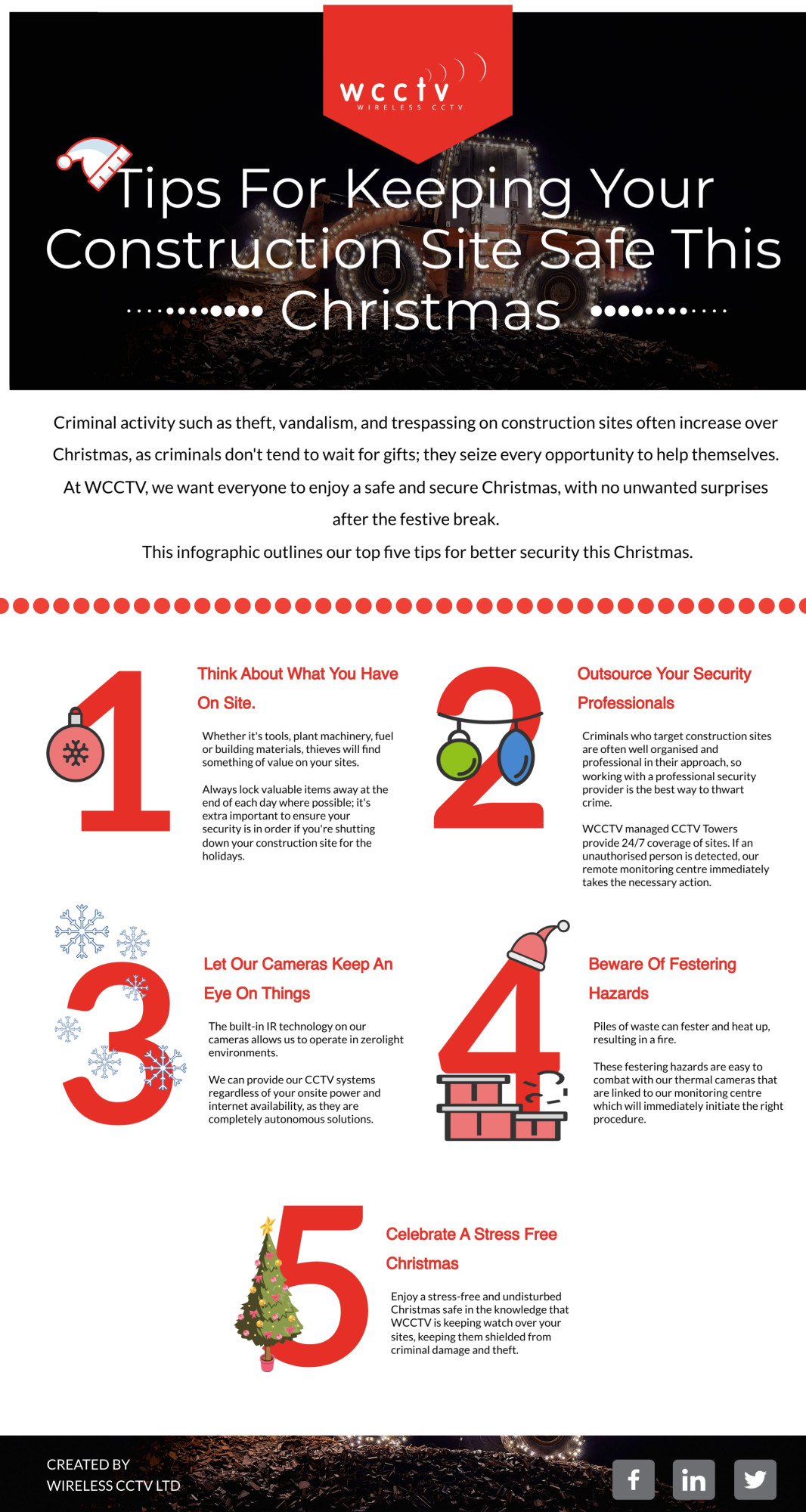 For expert advice and guidance on how to secure your sites, WCCTV is the industry's choice. If you are looking to get a quote for managed CCTV cameras for any upcoming sites contact us today.