Case Study Background
Greater Manchester Fire and Rescue Service is one of the largest Fire and Rescue Services outside London, with over 2,100 staff and 41 fire stations. They cover an area of approximately 500 square miles and a culturally diverse population of 2.5 million people.
The Challenge 
Greater Manchester Fire and Rescue Service (GMFRS) had traditionally used satellite communication systems to view and assess fire incidents from their command vehicle remotely.
However, the size and weight of satellite dishes made them impossible to install on smaller fleet vehicles. Additionally, the cost of such systems is highly restrictive.
GMFRS sought a cost-effective and convenient alternative method of transmitting live images from incidents. 
The new system would also have to be capable of integrating with the existing cameras fitted to the vehicles, which transmit video back to their Silver Command at GMFRS HQ.
The Solution
WCCTV provided Greater Manchester Fire and Rescue Service with a truly bespoke Silver Command monitoring application, the WCCTV V4 Compact.
The WCCTV's V4 Compact is a 4G-enabled  NVR unit that integrates with industry-standard IP cameras for custom surveillance applications.
The unit contains a removable hard disk drive (up to 4TB) for digital evidential quality recording. Users can remotely access live and recorded video and audio via 4G technology.
WCCTV provided a full fit-out service, installing and testing all equipment on behalf of GMFRS. The solution delivered allowed GMFRS to continue using their existing cameras and transmit live video without sat comms.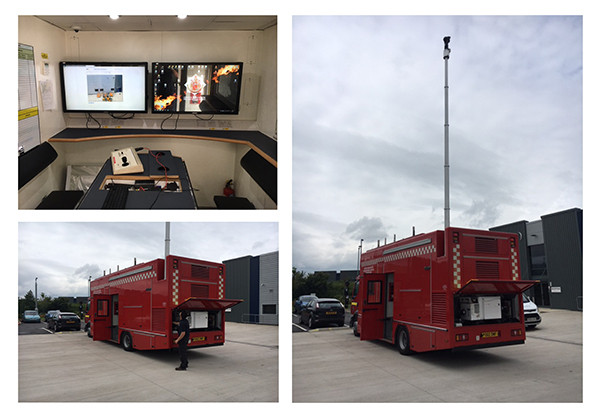 The Result
Follow a successful trial, GMFRS purchased the system, which has now been in use on command vehicles for 6 months.
The WCCTV V4 Compact is compact enough to integrate into smaller, fast response vehicles, allowing the Senior Officers in the emergency services Command Support Room (Silver Command) to view incidents quicker, allowing a more effective overview of situations faster decision response time.
The 4G Nano also delivered significant cost savings against the satellite-based systems GMFRS had previously used.
"WCCTV's Compact NVR has been highly successful working alongside our existing camera system; it's given us an economical and resilient approach to live streaming which has proven vital in fire and training incidents. Much more reliable than our older satellite methods, we have a much better overview of situations, allowing us to make more informed decisions on actions to be taken. I'd highly recommend WCCTV after providing us with a great solution backed up by great customer support."
Watch Manager - Greater Manchester Fire and Rescue
Related Links
Ready to see if WCCTV's Rapid Deployment CCTV can solve your monitoring requirements? Contact us today on 0800 470 4630 or email sales@wcctv.com.